Post by Topaz Dream on Sept 10, 2013 23:15:30 GMT -6
||| Topaz Dream |||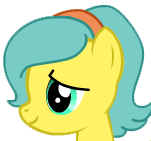 ---

#Name; Topaz Dream
#Age Group ; Young Adult
#Gender ; Mare
#Species; Crystal Pony
#Cutie Mark ; A pink musical note, received when she sang a lullaby to a filly who was having nightmares involving Sombra
#Occupation ; Cleaner
#Powers and Abilities ; Living Mood Ring - As with all Crystal Ponies, Topaz's color saturation decreases when sad, and increases while happy.


Singing - Topaz can sing extremely well, and without stuttering. She is able to use this to put ponies to sleep.


---





---


#Physique ; Pretty Thin, but still pretty sturdy
#Mane and fur color and style ; Mane is an Aquamarine-blue color and is kept proper with a headband. Fur is a Yellowish-green
#Eye color ; Light Blue
#Other appearance details (optional) ; Her back has scars from various punishments endured under Sombra, these are usually hidden with her vest.



---





---

#Personality ;



Topaz is very timid, due to conditioning while serving Sombra. She was raised to never speak when Sombra was near, and when she had to talk, she had to talk properly, or there were repercussions. She made sure she avoided Sombra as much as she could, so she didn't have to speak with him. She wasn't sure what he would think if she stuttered in his presence.

When she was /done/ with work for the day, and allowed to sleep, she made sure to comfort others first. She would sacrifice her bed, pillow, or blanket (If she was lucky enough to get one for the night) to the others before she would take it herself. And singing lullabies to the young fillies and colts that had bad memories of Sombra brought her some solace, and helped her throughout her time under Sombras rule.





---





---

#History ;



Topaz was born while her parents were slaves under Sombra. She was raised by someone else, and she never knew exactly who her parents were. She heard she had a brother somewhere, but she was never able to find him.

Once she was old enough, she was given the job to help clean the castle. Throughout her time cleaning the castle as a Filly, she slipped and fell a few times, once even slipping down a small flight of stairs. Instead of going to get anything checked out, she just hopped right back up and got back to work. She didn't know it at the time, but she had bumped her head harder than she thought, and it gave her a speech impediment growing up. Now, she has a small stutter that she can't control. She isn't typically too upset when ponies bring it up, but she would prefer ignore the stutter.

One night, while a Filly that she was bunked with was having a rather bad dream about Sombra, she laid next to the Filly, cuddling her to calm her down, and singing a soft lullaby to her. The two fell asleep, and slept rather soundly. The next morning, Topaz woke up to find her cutie mark, a Pink musical note. Topaz also found out that while singing, she doesn't seem to stutter at all, so ponies will find her singing to herself often.

The Filly she had calmed down became her friend quickly, and the two made sure to clean near each other so they could talk quietly while cleaning. One day, Sombra came by, talking to Topaz, and saw that her friend had noticed, and Challenged Topaz to praise him without stuttering. She almost got through without problem, but slipped up toward the end, and Sombra punished her friend for it. Topaz hadn't seen the friend since, and can't get the memory out of her head...

One day, she was cleaning one of the large hallways when a bright light flashed outside. It was none of her business, so she kept her nose down, not taking her mind away from cleaning. Soon, ponies were flooding the hallways, talking about two figures that came in and got rid of Sombra. She didn't want to take any chances, so she kept cleaning the empty castle for a few more days. She wasn't sure what the flash was. Most said it was a barrier rising around the city, causing the light to shift drastically and quickly. She chanced a gaze out of the window, and sure enough there was a barrier of light. She wasn't sure if this was to keep something out, or to keep something in...

Little did she know at the time, she was gazing out of a window into a world she didn't know. A world 1,000 years more advanced than she was used to. Topaz didn't know what to make of the Barrier, so she did what came naturally... Continuing to clean.



---





---




The Roleplayer's Corner


#Nickname ; Silver~

#Age ; 23

#Gender ; Male

#How did you find us? ; ADVENTURE THROUGH ADVERTISEMENT BUTTONS~

#Sample RP ;



Topaz kept her head low, scrubbing the floors as she heard the metallic clang of Sombra's hooves touching ground as he walked through the hall. Normally, she would try to stay away from Sombra, but she was unable to get away before he spotted her, cleaning as she was supposed to.
"You… Yellow Pony." he grumbled.
She didn't take her eyes off the ground, but she stopped scrubbing the floor for a moment. "Y-Yes Lord S-Sombra?" She asked timidly, making sure she didn't look directly at him.
"Look at me." His voice was a low rumble. She looked up slowly, seeing the harsh features of his face. "Do you… Fear me?"
"N-No, my Lord… I'm b-but your h-humble servant…" She said softly.
"Then why do you tremble so? Your voice quivers." He grinned at her.
"I-I'm sorry… I h-have a small s-stutter…" She explained, her eyes spotting the young Filly friend of hers nearby, watching the exchange. She hoped Sombra didn't see that the filly had stopped working.
Her hopes hadn't came true. Sombra looked back, and growled at the Filly "Did you stop working? Unless you're instructed to do otherwise, you continue." He snapped, taking a few steps toward the Filly.
"P-Please, m-my Lord… I c-can't clean y-your magnificent c-castle w-without her help… P-Please don't hurt h-her…" Topaz pleaded.
Sombra turned and narrowed his eyes at her. "You question me, Servant?" She asked. Topaz lowered her head in fear when a rumbling chuckle left his throat. "I am feeling generous today… I'll give you one chance to spare your friend from her punishment."
"T-Thank you Lord S-Sombra." Topaz quickly said.
"As long as you can tell me your purpose here… Without stuttering." Topaz looked up to see the sadistic smile on his face.
"O-Okay…" Topaz muttered, taking a deep breath. "My… purpose here…" She took another breath, obviously straining. "Is to serve… you without… question… and to… clean your mag...nificent c-castle…" Her eyes widened as she realised what happened with the last words. She looked to the filly with apologetic eyes before the Filly cried out in pain as she was shown her place.
Topaz lowered her head once again, and got back to scrubbing the floor, tears filling her eyes.