Post by Deleted on Oct 8, 2013 20:56:08 GMT -6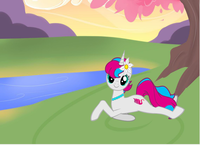 Subtle Swan
Friends
Subtle Swan has had few friends when she grew up. Her schedule, being controlled by her mother, didn't allow her to see other fillies and colts her age outside of school. During her school years she came to realize that most of the time, 'friendship' often lead to jealousy and hypocrisy. In a world where most ponies around her were materialists, she soon decided that her best friends were herself, her dreams, and Uncle Dazzle.
Having grown into a young mare, Swan came to learn more about the world around her. She came to know, by observing others,that true friendship was not a dream; it was just hard to find. However, she will always doubt the motives of those who try to be more open towards her.
Befriending Subtle Swan can be easier than it seem. She only needs someone who really cares about her, listens to her, likes to be with her for who she is, not for where she comes from.
*


*


*
Lovers
When she was younger, Subtle Swan always thought that she should only look out for those with power-- those her mother mentioned with great esteem -- the upper-class' descendants.
However, Subtle Swan never desired to be with them. As she began to hear about romantic love, she knew that her heart didn't belong to those who used their power to charm others.
For the pretenders or the unsuspecting preys: Subtle Swan's heart is governed by her dreams. Subtle Swan has come to value seeking shelter in her own mind, creating a world with calming thoughts, with ponies she likes. If a pony keeps appearing in her dreams without conscientious thought, she might see it as a sign. Subtle Swan can dream more easily about close friends than complete stranger; yet, even a stranger who has marked her deeply can invade her thoughts.
*


*


*
Ennemies
Subtle Swan might be patient, but doesn't have the most tolerance. She can be pushed around, being told what to do, or even be consciously ignored without her making a fuss; she is used to it anyway.
However, still feeling some connection with her roots, she will defend her honor and reputation. She loathes those who insult her, mistreats her, or make her feel like a fool publicly. When she starts disliking somepony enough to have vindicative daydreams, she won't let it die in the egg; she will strike back. One should be prepared when waking a sleeping swan.
*
*


*