Post by Deleted on May 13, 2014 9:52:29 GMT -6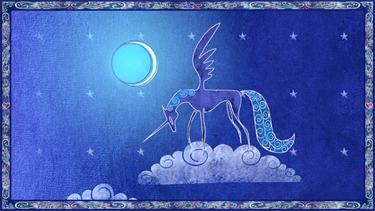 All across Equestria, Ponies Are Becoming Lost in Their Sleep!



An illness is spreading among select ponies by an unknown means. Ponies who are stuck by it fall into a deep somnolence from which nothing seems to wake them. They become lost in their own dreams, and are unwilling or unable to find their way back to consciousness again. Because of the peculiar nature nature of this illness and the number of ponies affected, Princess Luna urgently requests that anyone found to be afflicted with the sleeping sickness be brought to the castle in Canterlot at once to receive treatment.

In addition, if there are any courageous ponies among the stricken pony's friends and family, Princess Luna desires that they come forward to help. Volunteers are badly needed to enter the sleeping ponies dreams and to help them find their way out again. But be warned! To take part in another pony's dream is to put yourselves into their power. And should you yourselves become lost, or forget that you are in a dream, you may never wake up again...


For the Eternal Somnolence plot, we need a combination of victims and heroes.
Victims, of course, are the ponies who fall asleep, and whose dreams get entered. They will be responsible for creating the little adventure that the Hero(es) get to go on and should get rescued by the end. Some of the dreams should be so enjoyable that the victim, when found within, doesn't want to leave. Others can be nightmares within which the victim is imprisoned. Naturally, whichever route you choose should set the tone of the dream.
Heroes are the ones putting themselves at risk to save their friends, family and loved ones. It would be nice if they could have a personal connection to the victim, though if we have loose ends, it would be pretty heroic to volunteer to try and save a complete stranger!
Because we don't want to leave anyone hanging if we can help it, I'd ask that you only volunteer with as many characters as you feel confident you can commit at least two posts a week for. Yes, life happens and if something comes up and you cant manage to post for a week its not the end of the world, but if you're only going to post once a month, this is probably not the event for you.
So if you're still interested, please sign up below with your characters and whichever role you want them to play. If there's someone else taking part that you especially want to be rescued by or to rescue, feel free to put in a request as well! You'll know you're accounted for when your name gets bolded on this nifty table made up by Will. Thanks Will!
Heroes are in
Forest
, Victims are in
Raspberry
| | | | | |
| --- | --- | --- | --- | --- |
| Aloe | Apple Bloom | AppleJack | Big Mac | Big Shot |
| Blaze Racer | Blueblood | Bon Bon | Braeburn | CloudyJack |
| Compass Rose | Daring Do | Diamond Tiara | Dinky Hooves | Emerald |
| Esmerelda | Featherweight | Fiddlesticks | Fire Streak | Flash Sentry |
| Fleetfoot | Fleur de Lis | Flim | Fluttershy | Fossil Stone |
| Frostbite Flurry | Gilda | HoneyCrisp | Jasper | Keans |
| Lazuli | Lotus | Lyra Heartstrings | Lys | Melanite |
| Melody | Meriweather | Mignon | Minty | Neon Lights |
| NightLight | NightShade | Octavia | Pinkie Pie | Rainbow Dash |
| Rarity | Reed Valor | Rumble | Rose Quartz | Scootaloo |
| Shady Daze | Shining Armor | Silhouette | Sjel | Soarin' |
| Spitfire | Stardust Glimmer | Stars | Styrke | Subtle Swan |
| Sweetheart | Sweetie Belle | Synet | Synth Pop | Tech |
| Time Turner | Thunderlane | Topaz | Trixie | Twilight Sparkle |
| Woozi Booz | Vind | Vinyl Scratch | Celestia | Cadence |
| Cloud Dancer | Little Strongheart | Spike | Foxfire | Quill |
| Stratus | | | | |