Post by Deleted on Jun 25, 2014 19:34:34 GMT -6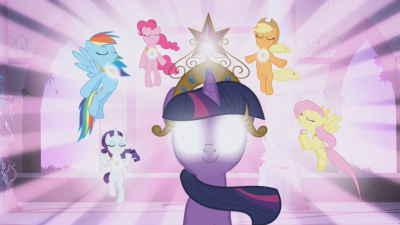 Magic
Magic has been the answer for almost everything thrown at the My Little Pony universe. But, most of us don't even know what magic really is, let alone what it can do. My goal here is not to set boundaries on magic. Magic is so much more than I can begin to fathom. But, I'll try my best.
Magic is infinite.
Magic can be as powerful as moving the sun and moon, or as simple as lifting a pencil. Unicorns are most commonly known for having magic, but they aren't the only ones. Dragons, Griffons, Pegasi, Earth Ponies... Each species has their own brand of magic that is special to them. Whether it be the ability to walk on clouds, help crops grow, send letters through fire, it's all magic.
This means that in the world of My Little Pony, magic is literally everywhere. The main races have it, and even the monsters. Changelings, that draconequus Discord, who, in my opinion, is a terrible person to wield such dangerous magic, Parasprites, Cockatrices, etc. It's in artifacts and even chaotic blue flowers.
However, since Changelings, Alicorns, and Unicorns are really the main races who can bend magic to their will, we'll focus on their magic for the remainder of this write up.
Magic is indefinite.
However hard we try, we can't begin to understand magic. All we can do is attempt to figure out what we can and categorize what we know. Here are the categories that would be established by Celestia's School. The First School of Magic is Arcane Magic. These employ the raw power of magic to their spells. It can range from telekinesis, to Time Travel, to teleportation. Telekinesis is one of the first spells any unicorn learns. These spells are more easily grasped by those of a mentally strong ability.
The Second School is Illusion Magic. These spells are more easily grasped by creative thinkers. These spells include creating tricks of the senses. They can be anything from fake fireworks, to phantasmic creatures.
The Third School is Elemental Magic. This school focuses on the most basic of elements in the world. This includes Fire, Water, Earth, Air, Plant, Electricity, Light, and Dark. Each field varies in use and intensity. This school has no specific type of learner, but it is one of the most commonly used Schools.
The Fourth School is Enchantment. This school is based upon taking the effect of a spell, and applying it to a regular object. These would include a cloak of invisibility or the alicorn amulet. It's a rather useful school, that many ponies study under for profitable reasons.
The Fifth School is Alteration Magic. This school is known as one of the most difficult to master. With it, you can turn an apple into an orange, or, at a very extreme extent, a regular pony into an alicorn. Being the magic that can literally change what something is, it's no surprise that it's difficult to get right. Diligence will be rewarded in this school.
The Sixth School is Conjuration. This has to do with summoning magical constructs, whether they be creatures or weapons. This is a rather dangerous School of study, and a difficult one.
The Seventh School is Mysticism. This is a more abstract school, taking in the powers of seeing the future, speaking with spirits, or dream walking. This school has less to do with intelligence, and creativity, and more to do with passion, practice, and wisdom. This is not a school for those restless in nature.
The Eighth School is Forbidden Magic. These spells are forbidden for a reason. If you're studying this school, you're either working to prevent it from happening, or you have dark intentions. The thing about this magic, is that anypony can use it, but not anypony can reverse whatever it does.
The Ninth and Final School is the Unknown. There is still a mass bounty of magic to be explored and defined. The thing with magic is that it's infinite. Just when you think you've got it pinned, something new comes along to surprise you. The Magic of Friendship and Love are good examples of this school. We don't know their full potential or exactly how to incite them for practical use, but they're powerful.
Certain races have magic, but aren't versatile in all the Schools. Zebras appear to be versed in Mysticism and Enchantment. Changelings specialize in Illusion magic and Arcane(may be subject to change if Ravian decides otherwise). Caribou specialize in Elemental and Mysticism(may be subject to change if Mori decides otherwise).
Friendship is Magic.
Magic is strange. Magic is terrifying. Magic is beautiful. We want to say we have all the answers. But, that's not what magic is about. Magic is about searching your imagination, pushing your boundaries, and having the determination and willpower to create something astounding out of absolutely nothing. Magic isn't perfect. Magic isn't always the best answer. That's why, Magic is Friendship.
No matter how corny it is.
(( Alright, everyone, here is my attempt at a writeup for Magic. You all can say what you think should change, or what you think should be added. This is literally the driving force of the entirety of My Little Pony. So, if you think something needs to be said, say it! Thank you for reading this far. ))
Your Moderator, and Friend,
Snow