Post by Whammy on Jul 4, 2014 17:46:47 GMT -6
Griffins
By Ravian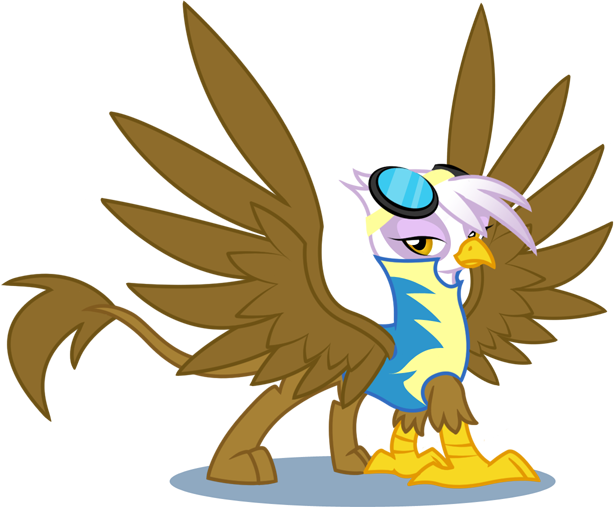 Politics: The Griffon Kingdom is a monarchy run by kings and has been so for the past 500 or so years, however, you could say that an unofficial griffon empire has existed for much longer. Many gryphonic tribes have existed in the area since long before ponies moved into the nearby land of Equestria. Some griffons even feel that they have more right to the land of Equestria . Though no large scale conflict has ever arose from such thoughts there have been skirmishes between small groups of ponies and griffins at the border and ponies can face small amount of hostility upon cloud cities.

The king himself has the head of a Thunderbird and the body of a tiger. Though the lower portion of the families body changes, only and always one of each generation is born with the upper body of a thunderbird and said to have a 'divine right' to the throne. It is allowed, though not suggested, to fight the king for the throne...lets just say that they have a good track record though. There has been suspicion of foul play in these battles, no proof though.

There are separate political views in the griffon kingdom at lower levels, the country has several states that pretty much do their own thing.

Culture:
Griffons tend to be more brash than your average pony. They tend to be very centered on athletics and for good reason. Many griffons have to hunt and the best way for most them to hunt is in the air. Much like pegasi, griffons are very athletically centered though many also are into architecture and blacksmithing. Mining is also an important part of griffon culture and has been since ancient times. Griffons are surprisingly good at digging with their claws and beaks.

Griffons also have a complicated relationship with dragons. One one talon they hold deep respect for them, on the other, dragons hord the treasure many griffons would love to get for themselves, even if they don't really hors it like dragons do. They also don't tend to get along with teen dragons especially as stealing eggs is extremely frowned upon by griffons. Adult dragons and griffons can sometimes be reasoned with but usually it is difficult to get by when such a large creature is scaring away all the small animals, birds and such. Dragons have also been known to, in legend at least, eat griffons as a sort of delicacy.

They also, of course, don't get cutiemarks. This has lead to a departure from the entire idea of 'destiny' and lead to a more 'go with the flow' or, the exact opposite, 'force what you want to happen' mind sets to be common.

Geography:
Weather is a bit less predictable in the griffon kingdom as griffons tend to only control the weather in the immediate area of cities, outside of the cities everything tends to run free.

There are many, many mountains(and a few volcanoes) throughout the griffon kingdom. Many of these mountains have mines built into them making large winding passages and it is not uncommon to find large colonies of diamond dogs inside of these or simply lurking about in the forests.

Many Griffon cities are built upon high clouds and don't really have a solid place that they always are, though they don't float willy nilly, they usually have a range that they float across, through and around. There are exceptions to this rule though, a few of the largest griffon cities that are too important to let drift around have instead been built into mountains sides and peaks. Most of the houses in the area are still on clouds but local businesses and governmental buildings are built upon mountains.


This includes the king's palace, which is built on the very top of a mountain. It is surrounded by the rest of the city which takes up the top half of the mountain.

Species:
Griffons can be any mix of felines and birds. Even those with less carnivorous bird parts tend to have to hunt. There are a few exceptions and those with parrot like and other but eating birds tend to be able to go longer without hunting. While those with carnivorous birds, especially birds of prey, tend to hunt extremely often, usually eating small to large rodents and possibly birds. Packs of griffons are known to take down quarray eels to use as a food source. They aren't easy to farm but in a country with a lot of mountains it isn't to hard to find a lot of valleys to raise them in.

All griffons are known for a certain affinity to shiny objects. Many families have hereditary treasures that are ancient amulets, some may even hold magical properties. They usually gain these items upon the parents death. The stealing of these items is veh serious and can lead to multi-generation long searches to find them.

Physically most griffons are quite a bit larger and more muscular than pegasi but not quite as strong as a hardworking earth pony nor quite as big as some of the larger ones. Their strength and speed is usually related to the species of bird and cat they resemble but with hard work this can be proven a unsteady way to judge a griffon's physical abilities.

All griffons are also capable of purring and roaring, unlike most large cats. They also capable of being extremely careful and skilled with their talons, still, many griffons that live near other species for long periods of time might choose to dull their talons so they don't have to watch what they're doing.

Their beak, while usually hard, is also able to bend, allowing them to smile and do most things a regular mouth can do...cuz....it's magic alright?

Legends: a lot of gryphonic legends are based on a few legendary figures.

Ziz: lord of most everything that flies, jury is still out on ponies and dragons though. A few of his legends are the reason most griffons won't harm songbirds. Legend has it that he protects them, especially the mockingbird. Tales about him include when Celestia herself had to meet him to tell him to close his wings as he was blotting out the sun. It is said that along with having dominion over winged animals, he causes the narturalweather to...be weathery. His wings are said to be the source of clouds themselves.

Phoenix: being of retribution and sometimes vengeance but best known for bringing balance. She has the upper body of a phoenix and the lower body of a tigress. Legend has it that her flames power the large volcanoes the are dotted across the griffon kingdom. Legend also has it that she is the reason none of them have gone off in over 100 years allowing the forests of the griffon kingdom to flourish. Which, coincidentally allows the pheonix population in the griffon kingdom to be rather high, though they still aren't common. They are known to help weary and kind travelers find their way to shelter, beware though, they also use their light to burn away malevolence.

Roc: God of hunting. Vicious and unforgiving. This entity is said to catch whales and elephants as prey. Unlike the others it is purely a bird and represents death and destruction. Many gryphonic tales use the Roc as a villain and usually end in lessons about having restraint in fury, holding back your ambitions and being able to forgive as that is what causes him to fail. Despite pride being a thing many gryphonic families have in themselves, several of his legends also list pride as something to not have too much of. He is said to be 10 times larger than any living Roc and to whip up full sized tornadoes with a flap of his wings!