Post by Whammy on Jul 4, 2014 17:48:18 GMT -6
BAT PONIES
By Fire Streak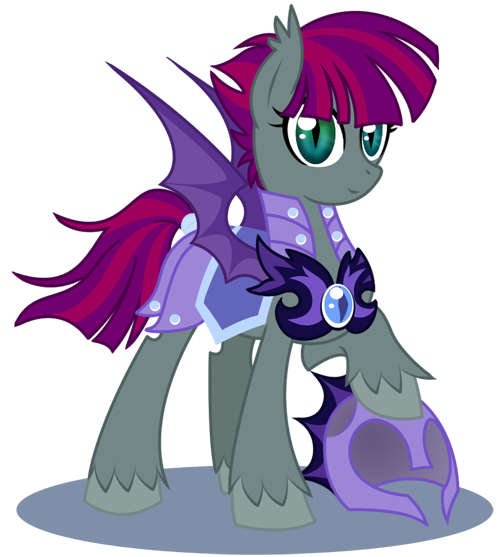 Physical Traits and Abilities
To begin understanding what is typical for life at as a bat-pony, you must first know what a bat-pony is, and how their traits set them apart from the rest of pony-kind. The fifth member of the pony races, bat-ponies have the most distinguishing features setting them apart from the rest of pony kind when compared to the others. Bat-ponies have a slightly smaller and lighter frame than Pegasi, but share roughly the same wingspan of them. Their wings are made of a leathery membrane stretched across several long fingers, and a clawed thumb where they all meet. These wings have a large range a movement enabling a Bat-pony to wrap themselves in their wings like a blanket. Unlike a Pegasus, a Bat-pony's wings have nerve endings in them making them sensitive. Damage to the membrane can heal over time, but until it does the injury can be a greater hindrance to them than if a Pegasus lost some feathers.
Bat-pony ears are only slightly larger n proportion to other ponies, and are a bit more furrier, especially at the tip. The only outwardly apparent purpose this serves is to make them more adorable than all the other ponies. The internal workings of their ears, however, serve to give them excellent hearing. This super hearing of theirs can be used to hear sounds that normal ponies wouldn't be able to ear. In fact their specialized ears and brain can decipher the way they hear sounds to echolocate. Bat-ponies can let out an ear piercing screech that can put any screamo band to shame. This screech is the easiest way for them to echolocate, and grants them an understanding of their complete surroundings.
The next big difference Bat-ponies have is in their eyes. Bat-ponies have large eyes with a slit pupil instead of a rounded one, and a reflective disc in the back of their eye sockets. The slit pupil can expand and contract to let in varying amounts of light into their eyes, and the reflective disc keeps the light in there longer. This gives Bat-ponies remarkable low-light vision. If you've ever seen a cat in a dimly light hallways with glowing eyes, it's the same principle. The less light there is to see by, the harder it is for Bat-ponies to distinguish color, until they are in complete darkness. In complete darkness they are able to still see, but without color recognition. Their special eyes allow them to see into the infra-red spectrum under low-light consitions. The darker it is, the easier they can see heat. Bat-ponies are very sensitive to very bright lights, and sudden changes in brightness. Light a candle or a lamp, and they're fine. Suddenly turn on all the lights in a room and it will take a moment for them to adjust. Turn on floodlights and they're just going to use their echolocation and keep their eyes closed. That's just how they do.
Bat-ponies are omnivorous, and as such have sharp fangs that let them bite and tear into foods that would be more difficult for flat pony teeth to chew on. A Bat-pony's diet and meal behavior depends on what is in their territory, but more on that later. Lastly Bat-ponies tend to have darker colorations than their day-walking cousins. Being nocturnal creatures this coloration has helped them stay hidden from prey and predators alike. It's not uncommon for a Bat-pony to be born with some splash of color in them such as having a bright mane and a dark coat. Bat-ponies that are born with bright coats and manes are rare, but they do exist. Some colonies may see births like this as omens depending on their superstitious beliefs.
Aside from the flight, super hearing, sonic screams, echolocations, and adorability, Bat-ponies have one more magical talent that they possess. Through magical methods Bat-ponies are able to stick their hooves to surfaces that they touch. This allows them to walk on walls, stand on ceilings and manipulate some tools. An average Bat-pony is able to suspend themselves upside down from the ceiling by a single hoof if they wanted to, but two hooves creates a better hold. Like Pegasi they are able to stand on clouds, and stand upside down on clouds, but they do not share any of the weather manipulating powers that their feathered family have. You may be wondering are Bat-ponies just off-shoots of Pegasi? Bat-ponies will tell you that is just Pegasus propaganda, and they're as Pegasi as Pegasi are just Earth Ponies with wings.
Settlements
The proper term for a Bat-pony settlement is a colony. Herds of other ponies may make their shelters out of wood, brick, and cloud, a colony of Bat-ponies for the most part prefer to use naturally occurring shelters from the sun's bright rays. Thus leading to many colonies living in cave, and cave-like places such as old mine shafts. How a colony expands largely depends on the geology of their territory. Not being strong like Earth Ponies, or having access to magic like Unicorns, carving out new tunnels and rooms can be quite the undertaking. Aside from planning on where to put all the rubble, they also need to know it will affect their water flow, ventilation, and structural stability of the area around it. Due to all the careful planning and time spent working out how to expand an area, colonies tend to have very skilled civil engineers.
The slowness of expansion leads to many colonies having a densely packed population. Personal space and privacy are luxuries to Bat-ponies. If one isn't living with their family, it's normal for them to be living with roommates since space is at a premium. Also since every Bat-pony has an acute sense of hearing, their populations are frequently dense, and sound can echo off of cavern walls, if someone says something in a public space, odds are everyone heard it. Colonies are closely-knit communities. Bat-ponies may be gossips, but since every Bat-pony knows every other Bat-pony's business they're rather close. The common rule is don't say anything in a public place you wouldn't want being heard. Tapestries, cave moss, and woods are common things used to muffle sounds in a living space.
A community cannot thrive without a source of water, and a Colony is no different. Bat-ponies take great care of their water supply in whatever way they can get it. Lakes, rivers, snowy mountain runoff, underground springs both hot and cold, and the occasional aqueduct. Many Colonies filter their water though stone to purify it and make it safe to drink. Since plumbing can be rather difficult and sometimes icky to run through a system of caves and caverns where Bat-ponies could be living on any floor, wall, or ceiling much of their utilities are kept in communal places. Their water fountains are filled with fresh drinking water, and it's a common sight for Bat-ponies doing chores to fill buckets to take home and store in a tank there. Some Colonies may even have Bat-ponies who have jobs going place to place to deliver water. Colonies also have bathhouses for the purposes of bathing. It's common place for a family or group of friends to go bathe together to socialize.
Contrary to popular belief by the other races, Bat-pony caves are indeed lit. Since fire can suck the oxygen out of the air Bat-ponies have relied on luminescent fungi, mosses, lichen, and insects to light their tunnels and homes. Many Colonies going to far as to breed different colors of each so that different areas and directions can easily be distinguished. Since many of these are edible to the Bat-ponies, many parents can see if their child has snacked before dinner by seeing if their mouths are glowing.
Bat-ponies are opportunistic when seeking out caves for a new colony. They can be coastal caves, deep in mountains or mineshafts, living in abandoned Diamond Dog tunnel systems, or even in Hobbit-like holes quickly dug into the side of some rolling hills.
Diet
Bat-ponies are omnivores, and much of what they eat depends upon their natural surroundings. As a society they are hunter-gatherers. Many of their staple foods are cultivated in their caves, but many bats will go out into the night to hunt prey, or gather wild growing berries, fruits, and the like. Staple foods in a typical cave include a variety of insects, mosses, mushrooms, root vegetables, tubers, and other cave-dwelling creatures. If their water supply harbors fish, or they happen to live by the coast, seafood may be a part of that colony's diet. Fruits, grains, and other foods either need to be found in the wild, or imported from pony settlements. Since exotic tree fruits, such as the mango, are especially hard to get in a Colony that does little trade with other ponies, they are considered important treats.
Imports/Exports
Much of what Colonies import are items they can't make themselves. For as self-reliant as they are, there are some things they can't do, and will work with pony populations in the area to get it. Much of was a Colony will import is food. Woods, certain textiles, and other items are also common. In return Bat-ponies commonly export silks, both from silkworms and from spiders, stone carvings and statuaries, minerals, and gems which they encounter. Their nocturnal services are also available as well to keep stores and businesses running long after the moon has risen. While not racially biased towards these professions, engineering, mining, stonework, metalwork, and gem crafting are common professions.
Other Races
How Bat-ponies are received by other races greatly depends upon their proximity to them. If one town has common interaction with them they're going to be used to seeing them around compared to other towns who might find them terrifying. Just look at what happened with Zecora. If you suddenly came across a pair of glowing eyes out in the forest you would probably be terrified and run away… unless you're Pinkie Pie. If you knew that there was a Colony near by, it could just be someone out for a walk just like you. The common misconception that Bat-Ponies are a sub order of Pegasi and not their own race is something that can cause some chafing as Bat-ponies are generally very proud of their individuality as a race.
Princess Luna:
They love them their Princess Luna.
Diamond Dogs and Dragons:
The thing these three races have is they all like living in caverns. Its uncommon for the three to get into territory disputes, but its been documented enough that Bat-ponies just have a general dislike for Diamond Dogs and Dragons. Since Diamond Dogs tunnel so much and so fast Bat-ponies believe their methods to be unsafe, and sometimes harmful to the environment above the ground which they use to eat from.
Parasprites:
Delicious, especially with an assortment of dipping sauces. If kept contained, they're possibly a renewable food source. If they get out of control, a Colony can make more than enough of a cacophony to drive them out.
Deep Ones:
A group of monsters living below the earth waiting to snatch little fillies and colts that go off exploring where they shouldn't be. May also be responsible for cave-ins and earthquakes. If you suddenly start to feel unwell while in a tunnel it is said that you may be near one of their dens, and are encountered by digging too deep. This is an urban legend that parents tell their children to keep them from wandering into unsafe places. The so-called Deep Sickness from their lairs is a warning to quickly get someplace safe because the symptoms encountered are ones you'd get from noxious cave gasses which can be very hazardous.
Changelings:
Bat-ponies and Changelings do not get along at all. Colonies tend to be closely knit, and a combination of their super senses and different way of life make it very hard for even the most skilled changeling to go about disguised in a colony for very long. While there could be quite a bit of love to be found in a Colony, the risk is too high to infiltrate a Colony. While they're opportunistic in establishing a colony, Bat-ponies will not try to inhabit a hive no matter how unihabited or abandonned it seems.
Holidays
Winter Moon Celebration: Falling on the longest night of the year, the Winter Solstice, this is the Bat-Pony's major Holiday. This Holiday is also known as their "Festival of Lights", called such due to the lights they hang in their caves which make the walls appear to have stars on them. It is a festive Holiday to celebrate Princess Luna, their existence, and friends. Much of the festivities revolve around eating considering it is a feasting Holiday. It is the one time of the year that all the Bat-Ponies are encouraged to eat as much as they want, no matter how many times they have to go for seconds, or thirds.
Bat-Pony Legends
Origin
There are many tales of where Bat-Ponies came from ranging from being created by Luna to watch over her night to originally being Pegasi cursed to roam the darkness after siding with NightMare Moon after her betrayal. While there are many different stories and theories that have arisen over the years on how the Bat-Ponies came to be, as a whole there are a few details all the Bat-Ponies agree on. They all favor a story involving Princess Luna either discovering or creating them, and they are not some sort of sub-species of Pegasi. Princess Luna probably knows for sure, and if she does, she hasn't told anypony about it.
Deep Ones
The tales of the Deep Ones are simply scary cautionary stories told to foals to warn them about certain dangers of living in a cave system. These bogeyponies of sorts are used to warn foals from going to far and getting lost, to get out of a tunnel if they start feeling ill from gas, or just explain why bad things can happen to good ponies sometimes. Well... they're probably a myth, but lately how many myths in Equestria are becoming true?
Bat-pony Sayings
Here are some sample Bat-pony phrases we've come up with. Feel free to suggest more.
"Day walker"
Self explanatory, a pony, or other creature that is diurnal.
"May the Moon light your way"
. A farewell blessing, wishing the other safe travels as you part ways.
"Summer Sun -blank-"
A statement of dislike and hardship. Stems from Bat-ponies being sensitive to bright light, and the summer sun being very bright and lasting very long. So a Bat-pony with a summer sun job has a job they dislike quite a bit.
"Silent Night"
A mild curse and a warning. It originated from Pat-ponies outside of the cave. When the wilderness would grow so quiet that they couldn't hear any animals or insects It meant that there was danger present, often time a predator.
"Empty Night"
A severe curse not to be used lightly. It refers to the night Princess Luna was banished and how empty the nights were without her.