Post by Deleted on Aug 30, 2014 21:07:03 GMT -6
||| COMPASSIONATE HEART |||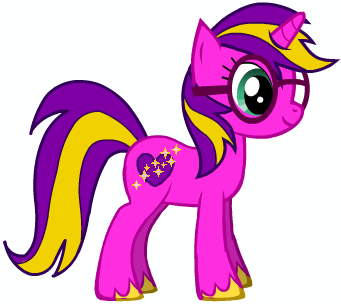 ---


#Name; Compassionate Heart
#Age Group ; Young Adult
#Orientation; Homosexual
#Gender ; Female
#Species; Unicorn
#Cutie Mark ; A purple heart with gold-and-white "sparks" trailing across it
#Occupation ; Bookshop keeper and (unofficially) counselor
#Powers and Abilities ; Her "Cutie Mark skill" is compassion--a word which literally means "suffering with." In practical terms, what that means is that she is good at understanding and being supportive of others when they are sad or lonely.



---





---


#Physique ; A bit on the tall side as well as being rather thin, resulting in a somewhat gangly appearance
#Mane and fur color and style ; She has hot pink fur, verging on magenta. Her mane and tail are fairly long and straight but forever rather messy, and are striped purple and gold.
#Eye color ; Darkish blue-green
#Other appearance details ; She wears eyeglasses on account of being moderately nearsighted. Without them, she is unable (for instance) to recognize her friends from the other side of Ponyville town square.



---





---


#Personality ;


Compassionate Heart is rather shy. She works at a book shop, but unless you need her for something you may not even realize that she is there, for she is usually hidden among the books. It is very rare that you would see her at, say, a large party; she does not like crowds or loud noises.

If there are only a few ponies present, however, Heart may appear. She is not quick to speak to others, but once she has formed a friendship then she will be firmly loyal. It is most likely that she will befriend somepony who has entered her shop alone, rather than showing up in company; and it is more likely that she will befriend one who is sad or lonely, rather than satisfied or proud.

She is aware that her special skill of helping others through tough times is very important, but it takes a lot of work for her to do much good--especially for an adult; foals are easier--and so she spends a lot of her time resting from that by reading. Heart loves to read about far-off places and long-ago times; just the fact that the places and situations described in the books are different from how she lives here and now makes the books useful for recharging her metaphorical batteries.

---





---


#History ;


Compassionate Heart was born in Ponyville to fairly unremarkable parents, and they raised her there too. From a young age, two things were clear about her: that she was never going to be terribly powerful in magic as far as unicorns went, and that she liked stories with happy endings.

When she was a little filly, Heart was often teased and bullied by other foals. She was strange because she got sad over things they found funny, like the story about the ponies who finally finished the long and dangerous climb up to the top of a mountain so that they could put something special on the peak, only to find that they had left that item at home.

---





---




The Roleplayer's Corner


#Nickname ; Koko

#Age ; 20½

#Gender/Preferred Pronouns ; Female (she/her)

#How did you find us? ; I saw an ad on another RP forum I'm on, and got curious since I hadn't ever seen an FiM RP before...

#Sample RP ;



We request that your sample roleplay is that of the character that you are applying for or of your original character.