Post by Deleted on Jan 26, 2015 19:31:16 GMT -6

What is a Breezie?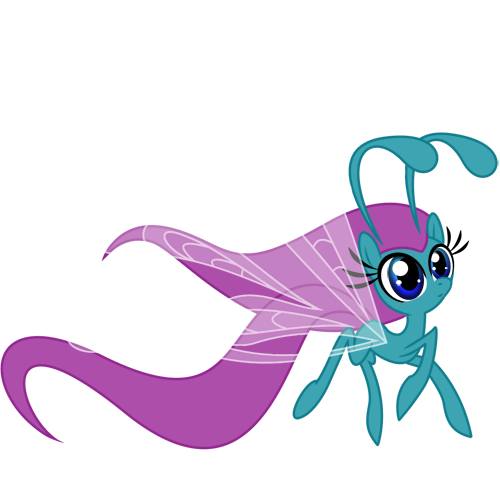 A Breezie is a diminutive flying pony, about 3-4 inches high. It has large, chitinous butterfly wings and wild tufts of mane and tail, as well as antennae. They are generally quite colorful and, with their big eyes and upturned button noses, as well as slender, gangly legs, considerably cute! Their tiny size and their delicate build have, unfortunately, rendered them extremely fragile.
Everything
bigger than a Breezie is a potential threat, even if completely unintentional, (such as being stepped on!) and quite a few of the things smaller can be dangerous, too.
For this reason, Breezies tend to be very timid and home-loving, for the most part. Though a few do learn the Equestrian language (if heavily accented) Many Breezies will
never
see the outside world, choosing instead to be born, live, and die all in the same community, so they are content with their own special language. And yet, a very few will be gifted with an bold streak, and may leave in small clusters on dangerous expeditions, to forage for food or search of a new home. And once in a great while, a Breezie with an adventurous and curious nature will be born, and he or she will simply pick up and go explore the outside world. These Breezies are rarely, if ever, seen again...
Where Do Breezies Live?
Breezies have two kinds of homes, Barrows and Brughs, (pronounced "brew") that tend to be featured inside a cave or under a hill, where they can be safe. However, Breezies are opportunistic builders and its not completely unknown for them to make use of a hollow tree, an empty well, an abandoned cabin, or even a large pile of junk, if the location is advantageous.
When a small group of the tiny faerie ponies, no more than a dozen or so, choose a new place to live, it is usually a very primitive group home at first, and is given the term Barrow. Gradually, as the population swells and individual dwellings are created, along with fields to cultivate various moss, lichen, and fungi that supply the main staples of the Breezie diet, the Barrow becomes more refined and is considered a Brugh.
As Barrows turn into Brughs, and homes and populations are expanded, gradually new and different ways of doing things will evolve as Breezies adapt to their new home. Because Breezies rarely, if ever, travel back to their originating Brugh or any other brughs that are more than a hop skip and a jump away, ideas are generally not shared. This can lead to very widely differing customs and cultures from region to region. One Brugh may play 'Kappature der Akurn' as a competitive sport, while another might swear by interpretive dance contests.
Considering the lifetimes of investment that go into creating a Brugh, and the devestation that would follow its destruction, Breezies are naturally very protective of their homes. To this end, though the ponies have no individual power, as many species do, they are capable of a few kinds of very powerful group magic. The more breezies that are behind the magic, the stronger it becomes. One use for this power is to disguise or seal the entrance to their Barrow or Brugh, respectively. If sealed, the entrance may have specific conditions for opening, such as narrow windows of time, or requiring some 'key' to be carried by the breezies coming and going, to open the door.
This will prevent most unwelcome intruders, but, should they find a way in somehow, Breezies have a second line of defense. The butterfly ponies can, working in unified ritual, compel an intruder's body to 'dance' without cease, until said invader simply collapses from exhaustion. This is their main defense against their mortal enemy, The parasprite. A single parasprite can and will seek a way into a Breezie Brugh, if it can find one, where it will begin to feed and reproduce rapidly. If not checked in early stages, a Parasprite infestation will quickly starve an entire Brugh.
What do Breezies Eat?

As mentioned before, Breezies will, given enough time, establish fields in their Brughs to cultivate mosses, lichens, and fungi, which will provide the majority of their food. However, both in the very early days of of barrow living, and in the bigger brughs, foraging is an extremely popular means to get food. Pollen, honey and nectar are delicacies that Breezies esteem and adore more than words can express, but they also enjoy foraging seeds, nuts, fruits and vegetables, provided that a means to convey such fare back to their home is possible. Refined sugar is a problem for Breezies. Unused to such a compact (and delicious) form of energy, they can quickly become addicted to it if it is made available on a regular basis.
What is a Breezy Family like?
Breezies are very similar to ponies in the way that they like to pair off to raise their young. Two Breezies will fall in love and each will leave their family home to build or occupy one of their own and raise a new family together. Breezies usually consider this commitment to be life-long, although there's no official binding or social pressure to make it so. Should the pairing contain a pony of each gender, children generally are the result, one or two at a time and usually several years apart. Breezies love big families, and it isn't uncommon for a pairing to eventually result in a dozen or more children, all living at home until they, too, find their mates and begin a family of their own.