Post by Queen Chrysalis on Feb 20, 2015 17:11:33 GMT -6
||| Queen Chrysalis |||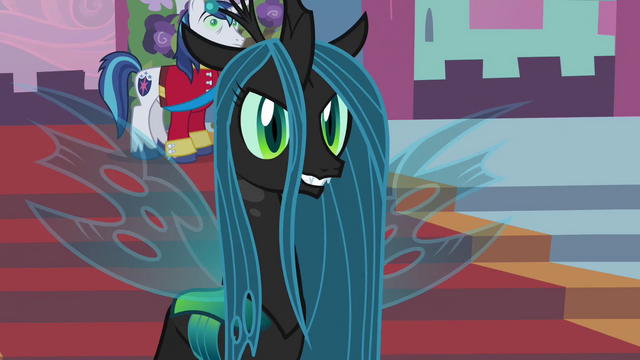 ---

#Name; Queen Chrysalis
#Age Group ; Adult
#Orientation; Pansexual
#Gender ; Female
#Species; Changeling
#Cutie Mark ; Whatever she wants it to be.
#Occupation ; Queen of Changelings, Professional Vagabond
#Powers and Abilities ; Chrysalis, like all other changelings, has the ability to drain love from ponies to power her magic. She also has a larger reservoir of magical energy when she does drain love. This allows her to hold forms other than her own almost indefinitely.

She also has greater control over the Changeling Fire that all changelings have, able to refine it into a beam of energy. She also has the ability to use her magic to hypnotise ponies, reassuring them things are fine, and keep them from overthinking who she really is.

A Final ability Chrysalis has with her magic is the ability to transport things with her magic. This works much like a dragons fire, engulfing an object or pony and moving them somewhere else. This does take quite a large amount of energy, even moreso to move herself, so she doesn't use it often.

Chrysalis also has very good control over Illusion magic.


---





---


#Physique ; Thin, tall, and almost sickly looking.
#Mane and fur color and style ; Long, Dark Cerulean mane, with holes toward the tips of the mane. 'Coat' is a Dark Grey Chitin with a Green-Blue backplate.
#Eye color ; "Moderate Harlequin" (Hex #51C130) With slightly darker colored Pupils that have black slits through them. Her Sclera is a really light blue-green color.
#Other appearance details (optional) ; Her horn is long and twisty, with what seem to be holes in several areas of it. There are also holes in various areas around her hooves and wings. Her wings end in somewhat sharp-looking points.

She also wears a black crown tipped with blue orbs. Her voice has a distorted echoed quality, as if two voices are speaking slightly out of sync.


---





---

#Personality ;



Chrysalis' personality changed throughout her growing under the rule of a different queen. She started out aspiring to be just like her. However, as she got older and started to take command, she realized that running things the same way would get her nowhere, so she moved on and developed her own style of rule.

She made sure to take care of her subjects, keeping them happy and fed so, in turn, they'd keep her happy, fed, and safe. However, she desired more. And she expanded her dominion over much of the Badlands, assimilating other hives into her own, not realizing the problem with that.

Soon, she turned her sights more aggressively toward the north, sending scouts out to find a good source of food, happy to have control over her hive again, despite growing unrest.

Though she was ready to destroy everything that Cadence was, feed on her husband until he was a husk, and move on. She does realize that ponies don't appreciate that. In her mind, she was doing what was right for her subjects, and she never seemed to be upset about who she hurt in the process. However, she is still ready to overtake cities in her rise to power, even if it was slow and steady.

---





---

#History ;



As a young bug, Chrysalis was groomed to be a leader. She was chosen as a queen almost as soon as she was hatched, and she enjoyed listening in on the current Queens plans, and learning what it was to be a ruler. As she grew, she learned more and more about what it meant to rule, and how it wasn't all the glory of everyone looking up to you and depending on you to do things. There was a lot to watch out for between other Hives, ponies finding out where you are, or disputes between your subjects.

When the old Queen fell, she was quick to take up the crown and fill her metaphorical shoes. Her start was slow, and her subjects did seem to resent the change for quite some time. It had seemed all of her lessons were unable to prepare her for what she was coming into. However, when one day her hive was attacked, Chrysalis was quick to rally her soldiers, even standing alongside them to fend off the attack, they seemed to warm up to her, and she realized what she had to do.

That marked the day Queen Chrysalis started a quick rise to power, expanding dominion over the Badlands in an effort to gain more followers, and in turn, more changelings to all but worship her. There weren't many hives in the Badlands, but soon, they were all hers. She appointed trusted Changelings to be her eyes and ears in those hives, and to help keep her orders heard throughout the Badlands.

With all of the hives working together, the Badlands became more dangerous, and Ponies started to appear less and less, knowing that a lot of them don't return for long periods, speaking of 'blackouts and loss of memories'. And with this slow down, the food supply was slowly dwindling. Ponies stopped showing up, and the dragons to the south were… Less than an agreeable source of food. So, Chrysalis had to act to keep her hive safe and fed.

Soon, she sent scouts north. Something she hadn't done in a long time. She sent them out to find a gathering of ponies that she could get a good source of food for her subjects in large supply. Several Hearts and Hooves days passed, none of them shouting to her as good (A date is only good for quick meals of course.)

However, one day, a scout reported back about a wedding. And not just a small wedding, but a wedding between a Princess and the Captain of the Royal Guard. She quickly gathered her army and told them her plan. She was going to infiltrate the city to gain the role of the bride in the wedding. Then, a message would be sent out with the Hive Mind for the changelings to come in.

Night fell over Canterlot as Chrysalis approached. She made sure the Captain got much more paperwork, keeping him busy for a few more hours. She took his form, slipping in to see the Princess. This was when she captured the Princess (A quick task with her current form) and transported her into the unused crystal mines under the city. Taking her form, she expedited the wedding, wanting to make it as quick and painless as possible for all involved, so her changelings could get what they need.

However, one of her scouts was discovered, and thus an increase in security happened, culminating in a force field to keep the changelings out. Chrysalis needed to figure out what to do, and used her magic (Namely the hypnosis) to try to get him to weaken the field.

Another problem came about when Twilight Sparkle showed up. Her scouts never told her the Guard Captain was her sister, or the Princess was her Babysitter. Chrysalis had to act fast, as she knew Twilight was onto her. And soon, things almost seemed to fix themselves as Princess Celestia AND Twilights friends turned their backs on her. So, Chrysalis took the chance and trapped Twilight in the crystal caves as well… Probably her worst mistake.

Just as the ceremony was beginning, the doors flew open, and Chrysalis was now staring down Twilight, and the pony who's form she was in. However, she had drained plenty of love from Shining Armor (Who she may harbor feelings for), his shield was weakened, and she was ready. Her army broke through the shield and she even defeated Celestia.

Telling her army that the Princesses and the Elements of Harmony were defeated, and the city was theirs, Chrysalis looked out over her army as they captured, fed, and ransacked. This was her second worst mistake. Not binding Twilight, who freed Cadence and Shining Armor,allowing them to work together to banish the Changelings from Canterlot.

Chrysalis was launched almost the entire way back to the Badlands. Her army was scattered, her Hivemind was all but destroyed, and very few voices cried out for guidance. She had failed them. They were scattered and broken, and she was scared. For the first time in her life, she had no idea what to do. Her chitin cracked, and her ego (and body) broken and bruised, She sent out a message with her hive mind, telling what changelings she still has a connection with to hide out, recover, and further orders would come when Chrysalis figured out another plan.

The big thing she knew: As long as they were in Equestria, even if her subjects weren't nearby, they'd be able to get food and serve her in other ways. Her takeover was going to have to go slower. Perhaps starting in a small town, such as Appleoosa or Dodge Junction, to have a starting point for her takeover.




---





---




The Roleplayer's Corner


#Nickname ; Silver Tongue

#Age ; Old enough to know better, still too young to care.

#Gender/Preferred Pronouns ; Male/Man/Dood/Bug/You/Silvy/Whatevs

#How did you find us? ; When a Changeling needs Love, they find Love. That's why I'm here! :3

#Sample RP ;



Chrysalis made her way into Dodge, almost collapsing as she made it into the saloon, ordering water, feeling battered and broken. As she hastily drank down the water, ordering another, she noticed the ponies were staring at her. She had to come up with something quick. "I had a runin with something in the Badlands… I ran… All the way here…" She said weakly. One pony, a cream colored pony with a red mane.

"Where ya from, Hon?" She asked, her voice was almost soothing to Chrysalis, easily trusting this pony.

"I… " Chrysalis paused, her head drooping, the soft blue mane drooping, hiding the emerald green eyes. Her coat was a light grey, the dust not showing until she brushed it off. "I… Don't remember. I… I don't remember much."

Cherry placed a gentle hoof on her shoulder. "Let Cherry take care of you, then. We have an extra room at the Ranch, and you're welcome to stay until you got you've recovered. And we'll figure out something for you to repay me for the food you eat in the meantime. How does that sound, hon?"

Chrysalis nodded slowly, finishing her water and ordering yet another one. "Your… Your kindness is much appreciated, Miss… I hope I can repay you to your satisfaction." Chrysalis's voice was a little stronger, the water helping even out her voice.

In the following days, she was finally able to walk without the limp, but she could feel her chitin loosening, a shed coming on. She had to be careful. Now, she had to learn how to pick cherries. An easy enough task, or so she thought. There were hundreds of thousands of the tiny red fruits. Some were ripe, some had some time left. Some had blemishes, some were perfect.

Chrysalis did her best to harvest them, her chitin ready to be shed in the middle of the day. She found a spot away from the other workers, and stepped quickly out of her chitin, the new chitin shiny and repaired. She looked at her old chitin and flickered her fire to quickly burn it and stomped out the fire, the small flakes of the old chitin flickering away in the wind as she went about her business, none of the ponies around her any the wiser.