Post by Deleted on Mar 31, 2015 22:00:08 GMT -6
Happy April 1st, everyone!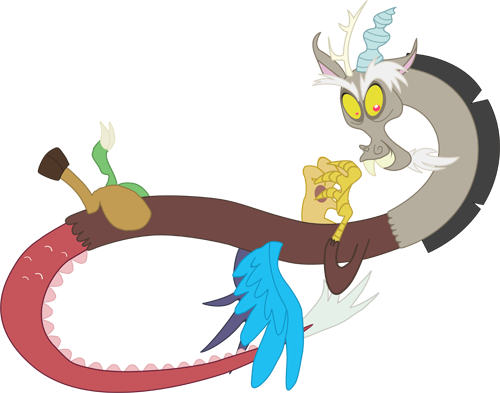 It's April Fools day, and you know what
that
means! Or maybe you don't. In which case, I'll tell you! Right now! What better way to celebrate the most prank-tastic day of the year could there be than to honor Equestria's most chaotic and nonsensical being? And who would that be? ...No, not Nightmare Moon. She already has her own holiday. It's Discord! And in honor of everyone's favorite antagonist, we're going to play a game! Or well, I offer you a game to play! You can play it if you want! You might win a prize! Here's how it works:
Hidden in posts around the site are a number of tiny little Discords! How many? Quite a few! It's your job to find them!
All
of them! When you think you have found them all, you should PM Coffee (this account!) with the titles of all the threads they were hiding in! The first
FIVE
people to send me all the locations of the Discords in a PM will each receive their very own Coffee-drawn Character Commission!
Now, every game has to have rules, even Discord's. Here they are.





Firstly, its possible that you might think of a good way to cheat. Please don't. This is supposed to be for fun, and I'm asking you on your honor to play fair.



Its fine if you want to collaborate with others or work by yourself, but only the first five people to send me a Pm with all the locations of Discord will be given a commission.



That commission will only have one character in it. In case you were thinking of "I want a commission with everyone on the site in it!"



Discord will only be in actual roleplay threads. So you don't need to search the out of character places for him.



Discord will only be hiding out in threads that are active. That is, threads that have received a post in the last 60 days! But he might be anywhere in there, so don't overlook him!





Think you've got all that? Good Luck! You've got just until April second, CST! In the event that no one finds them all, Only the one (or first) winner with the most spottings will win a commission!