Post by Whammy on May 23, 2015 10:19:17 GMT -6
DIAMOND DOGS
By Rufus (Aka Billy Mays)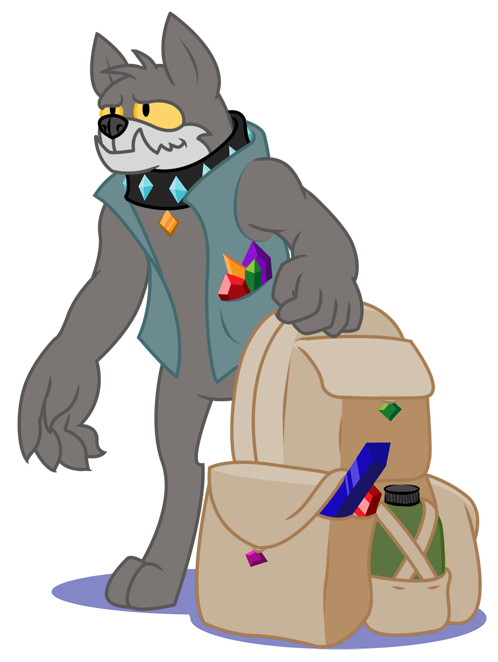 Masters of the subterranean and renowned lovers of gems, the Diamond Dogs are a race that have lived in Equestria for longer than anypony can remember yet are not commonly seen due to their reclusive nature.
Physical Traits and Abilities
Diamond Dogs are, as their name implies, dogs. They bear few physical similarities with ponies other than multiple basic aspects that all mammals have. One aspect that sets them apart with ponies is the variance in size and weight between members of their species. At a mature age, a Diamond Dog can be anywhere as around the average height of a pony (if not even shorter) to as large as several times the size of a pony. Their weight varies drastically too; two Diamond Dogs could be about the same height, yet one could weigh twice as much as his counterpart, without extra weight from body fat being accounted for. Some dogs are lithe; others are short and stocky, while some are giant behemoths compared to even some of the more burly members of their species. Females tend to be slender and with more pronounced chests compared to males, while males have broader shoulders than females; however, the size variance in the species is too great to say that one gender is generally larger than the other.
In terms of describing the general stature of Diamond Dogs, one could describe them as having the stature of a great ape (most notably gorillas), combined with canine features. The general shape of a Diamond Dog along with their facial features often bear resemblance to regular canines, adding even more variety in terms of differences between members of their species. The fur of a Diamond Dog is usually a dull shade of a color such as brown or grey, bearing resemblance to their choice of environment, but colors like red, yellow, white, and black are not unheard of. There is however no such thing as dogs with bright pastel colored fur, unlike ponies. Most dogs are hunched over, and though they can and often do walk on their hind legs, they often revert to standing on all fours when standing in a fixed position. Their arms are very strong and long reaching, with large paws perfectly adapted to be used for digging. They have prehensile thumbs and can grasp objects with their paws, but their large size makes Diamond Dogs somewhat clumsy when handling small objects.
The most prominent unique trait of Diamond Dogs is their digging ability. Diamond Dogs have evolved to thrive in a subterranean environment, using their large paws to dig through the earth at incredible speed. Few things in the world are known to dig better than a Diamond Dog; they can dig through the soil at exceptional speed and are able to bore through even tough bedrock. Only the toughest of rocks require a Diamond Dog to use the assistance of digging tools to break through them.
Diamond Dogs are neither diurnal nor nocturnal, as the difference between day and night means little to a race that spends most of its time underground. With a few exceptions, Diamond Dogs rarely take note of the time of day and simply take turns working at certain times instead of all members of the pack being awake at day or night. Diamond Dogs are omnivorous, however they evolved from predatory ancestors so their diet consists of primarily meat (especially since they are more interested in living under the earth instead of farming it). As a result, Diamond Dogs also have the keen senses of a predator. Their eyes are good at focusing on distant objects instead of being able to see more of their surroundings, and thanks to their life underground their eyes evolved to allow them to see in the dark. They also have a good sense of hearing, as Diamond Dogs can often hear larger creatures above their tunnels that are trespassing on their territory (it should be noted though that neither their sight nor hearing are as keen as a bat pony's). Their strongest sense of all however is their sense of smell, which is several hundred times stronger than a pony's. They are easily capable of tracking something's scent, and their sense of smell is so powerful that they can even smell the differences between certain soil compositions, allowing them to better plan ahead where to dig and where to find gems.
Settlements
A settlement of Diamond Dogs is usually referred to as a den, and a group of Diamond Dogs is called a pack. Dens are subterranean complexes built by diamond dogs for their own purposes; though they will often use an already existing cave as a base, dens are always dug out and customized to the needs of the pack residing within it. An already existing cave inhabited by Diamond Dogs will within the time span of a few years be transformed into a completely different (and much larger) structure. To ponies their cave systems seem unsafe due to their lack of support beams to keep it from collapsing, but in fact Diamond Dog caves have a structural integrity nearly unmatched by caves and mines made by other races. Generations upon generations of Diamond Dogs living underground have allowed the species to naturally know exactly where to dig and where not to dig, making their caves strong and easily repairable if part of it does collapse in a catastrophic event such as an earthquake. Few dens will look alike as their shape can change due to the pack residing in it, where the den is, and what the earth is made of at the den's location, but all are alike in that they will have tunnels reaching deeper into the earth than the residential part of the den for the purpose of mining gemstones.
The society of individual Diamond Dog packs can vary greatly, especially given the race's tendency to be isolationists. Most packs have a sort of aristocratic society in place where the dogs of the richest and most powerful families are the leaders. This is of course decided by what family has the largest collection of gems; any family can rise in power by simply earning more gemstones, while others can quickly lose their power by losing their gems through debts or disputes. Most packs are patriarchies where the biggest and strongest males are the leaders of their family and ultimately the pack, while others are matriarchies and some simply choose the dog deemed the most capable in their family to lead. Larger packs will often have more than one pack leader, with each one often times fulfilling a different leadership role within the pack. Some packs are even known to have more advanced governments in place, such as packs where leaders are voted on by the pack as a whole. Of all forms of government though, monarchies are rarely ever seen; Diamond Dogs often see the title of pack leader as something that must be earned by right of the individual or their family, instead of simply being born into the role.
Culture
-Pragmatic and Isolationist:
Though this not true for all packs, Many Diamond Dog packs are known to be both pragmatic and reclusive. Though many packs will have traditions and customs these are practiced under the belief that they have a practical application. As a race they are not particularly spiritual, and what beliefs and superstitions they do hold generally revolve around gems. The race is also known to stay away from most surface dwellers, but some packs have been known to trade with ponies and a select few are completely open to outsiders and frequently interact with other races. These are the exceptions to the rule however, so the majority of packs look upon other races with wary eyes.
-Relations to Other Races:
Diamond Dogs are wary of other races as a rule, for the most part. A lot of packs simply want nothing to do with outsiders, some will do morally deprived things for the sake of gems such as slavery, and a few are willing to cooperate with ponies through trade and sometimes more. Here are some general relationships they have to other species.
Bat Ponies: Sometimes seen as rivals, due to them also being cave dwellers. The two races are known to occasionally compete for territory.
Dragons: Considered ever bigger rivals than bat ponies. Not only do they compete for territory with Diamond Dogs, but the two races will often attack each other to steal each others gem hoards. Of all the relationships to other races, the one between Diamond Dogs and dragons is likely the tensest.
Changelings: Being a suitable location for hives, changelings are yet another race that will compete for caves, sometimes even invading already occupied dens to drive the dogs out. Beyond that, changelings tend to avoid Diamond Dogs as they are not a good food source. Their illusions are mainly adapted to fool the senses of a pony, and as such they're incapable of perfectly mimicking the scent of another race well enough to fool a Diamond Dog.
Griffons: The packs within Equestria don't hold much of an opinion of the race as they're rarely seen around those parts, but within the Griffon Kingdom they have a much closer relationship, for better or worse. Some packs fiercely defend their gems from griffons or try to steal gems themselves, while others are employed by griffons for their brute strength and mining skill, usually with gems as payment.
-Craftsmanship:
Something not often known about Diamond Dogs is that many packs have skilled craftsmen (or craftdogs, if you will). Many packs have blacksmiths who will make things such as mine carts and mining tools, while others have jewelers who will make fancy jewelry for the more powerful members of the pack. Diamond Dogs seem to have the ability to work with gems on an instinctual level, with part of them learning how to craft just being something a dog "knows" by default. One item common throughout different dens is lanterns made of glowstone; a perfect lighting source for tunnels where built up smoke from torches could prove hazardous and holes to vent out the smoke being potential openings for intruders to find their dens and get in. The color of the lanterns will match the kind of glowstones available where the Diamond Dogs live.
-Diamonds and Other Gemstones:
Diamond Dogs value all gemstones, but naturally they will value some more than others. It often depends on the preferences of the pack and what gems are hard to find where their den is, but some gems such as emerald or ruby are generally coveted by all packs. The most valuable gemstone of all however is diamond, a gem universally loved by the race so much that they were named after it. Diamond is valuable to all dogs, so it is the gemstone most often use to signify that a dog is important. It is very common for members of a powerful family to wear diamonds to show that their power; the more diamonds, the bigger role they have in the pack. Because of this, Diamond Dogs and ponies alike can easily tell who the pack leader is by looking for the dog that wears the most diamonds.
-Speech:
Contrary to what some believe Diamond Dogs actually do speak the same language as ponies within their packs. However, centuries of mostly separating themselves from surface dwellers have caused the way they speak to seem 'broken' and 'rough' to ponies. The quirks of their speech vary for each pack, and come from a lack of interaction with ponies rather than being unfamiliar with the language. The closer interaction a pack has to the outside world, the less likely they are to have odd quirks in the way they speak.
-The Moon:
Despite their pragmatic nature, Diamond Dogs seem to hold an odd reverence for the moon. It is commonly believed this is because it resembles a large gem to Diamond Dogs, but every pack would likely tell you a different reason. Many packs hold ceremonies that coincide with the full moon, and hold peculiar beliefs such as never going to the surface when the new moon is out or knowing where to dig for gems based on which direction the crescent moon is pointing. Though most Diamond Dogs are unaware of Princess Luna's presence as the controller of the moon (partly because of being isolationists and partly because of her being gone for 1,000 years), many dogs that learn her role seem to hold an odd respect for her.