Post by Whammy on Oct 15, 2015 22:02:51 GMT -6
CHANGELINGS
By Ravian with Special thanks to Silver Tongue, Coffee and Inky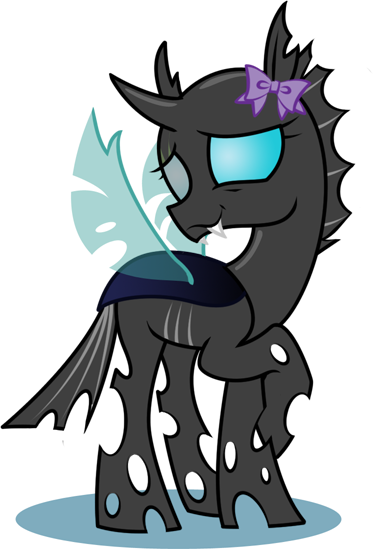 Changelings, a mysterious species with little known about them. By nature they are hidden from prying eyes. They are there though, sprinkled throughout Equestria. They have been being noticed much more often after the defeat of Chrysalis. Her hive was scatted and still hasn't succeeded in regaining order, leaving many changelings to their own devices, which may or may not be best for their well being. We will discuss the physical traits, abilities and culture of the changeling race.
Physicality:
Biology:
While born from eggs, changelings are not arthropods, they do not breathe through osmosis and do have an exoskeleton, but also have an endoskeleton. They naturally grow holes in their legs throughout their life. These holes change placement occasionally. This happens when changelings molt. They have wings, these can buzz, flutter and flitter but they are always notably insect-like. These wings usually focus on maneuverability, but certain changelings may have a talent for fast flying. Their chitin can vary widely in hardness. It can be as rigid as a beetle's or as supple as a praying mantis'. Their fangs, though mostly for show, can inject a mild anesthetic that causes forgetfulness and confusion. Finally, much like a pit viper can sense heat, a changeling can sense love in the same not-quite-sight manner. They must be rather close, but when near they can find it rather reliably and can guess what it's manner and direction is by taste and placement.
Molting:
This is one of their more insect-like traits. Molting is what allows a changeling to grow, but during a molting period they also are slightly vulnerable and can change appearance. After molting transforming is more difficult and their normal form has a less rigid exoskeleton. Before molting changelings will feel tired and drained, possibly lethargic and they will either need to have a store of love or need to find some. During molting transforming is also difficult, and will cause a lot of discomfort. Most changelings take about a week to change as though physical activity speeds the process, most will find a place where they can rest for long periods of time.
Lifecycle:
Changelings tend to live slightly longer than most ponies and start life slightly more active. They are born from eggs and can usually crawl straight out of the egg. These eggs take about a year to hatch in a complete cycle from fertilization to laying to hatching. Their growth after that point is comparable to toddlers. Old age doesn't creep up on changelings like it does for ponies, it strikes quickly and usually once age is noticeable a changeling will live for only another few years.
Diet:
Changelings exclusively survive on love. This doesn't mean they need to be loved to feed, or that they need pure love or true love. Nearly any kind of love works, but some kinds of love gives more than others.
Love:
Changelings convert love into their lifeforce through an unknown process. This process hasn't been studied extensively but it is assumed that it is a rather complicated process. Changelings can forcefully drag love out of a subject, but it isn't efficient as other methods. Love can be extended to powerful friendships, family ties, infatuation, and even obsession but absorbing more exotic forms of love can affect a changeling's mood in a way dependent on the emotions attached to the love. Changeling's, on average, need to feed once a week to stay healthy, much like a pony eats thrice a day. If they are particularly active, they will have to feed to once a day and if they don't change at all, they may be able to go two weeks between meals.
Food:
Changelings can eat, taste, and process food, but have no use for the nutrients involved. Most tend to find processing food to be rather uncomfortable process, though by the time they are middle aged most are used to it.
Alternative foods:
Other emotions...do not give changeling's energy. They can, however, make changelings sick. Sadness can cause cold like symptoms, anger can give a fever, jealousy can cause nausea. A changeling must be careful about how they feed and how quickly they do so. Much like chewing, if a Changeling bites off a lot of food, the emotions that usually can be sifted away, are put into the changeling's lifeforce, which can cause a multitude of effects, bad and good.
The feeding process:
With a different food, comes a different means of consumption. To drain love a changeling must have their 'victim' in a reasonably calm state and usually have to be subject to their target's affection. They then can simply take a deep breath in, to consume, and drain love from the victim. Love tends to simply radiate from their victim's body, rather than come from one specific place.
The process leaves a pony feeling like they need a nap, along with a general lethargy in their limbs. This feeling creeps in, rather than becoming quickly apparent. This isn't the only effect of feeding though. Changeling's consume love and there's only so much love in a pony. If feeding is regular and consistent, or excessive ponies can lose the love of certain subjects, and beings. This process is called Amoretification. In it's final stages it can remove all of a pony's ability love, but this is rarely seen as there are obvious drawbacks for both parties.
Residual love:
if a changeling has a large area to itself, it may be able to survive solely on residual love. This is love that has been left behind, by the ponies passing through. Perhaps by someone remembering their lover for a moment, or an extra passionate kiss. Usually this love comes in bites, snacks and tidbits, if a changeling searched all day they might be able to come out even or a little ahead, but this generally is considered a low quality meal. It doesn't taste good, leaves the changeling feeling hungry, and takes a huge amount of effort to find, with the changeling basically becoming a glorified metal detector.
Magic:
Changelings are a more magical species than most, with bodies that exist by being sustained through magical means. This connection gives them a multitude of magical skillsets. They are, however, not as skilled as unicorns. Where as unicorns may be able to learn some spells within an hour, only very skilled changelings can manage even simple spells after a reading. They require extensive practice to learn complicated spells and may not have the magical power for some spells. They can, however use basic telekinesis instinctively.
Transforming:
The bread and butter of a changeling. Changelings have the incredible ability to change their appearance. That isn't completely true though. Changelings can do more than change their appearance. They change their entire structure when their appearance changes. Their wings become feathered or leathered. Their chitin changes to skin. Their voice can change. Their organs and skeletons can change structure. This is all achieved through arcanophores, magic centers of changelings. These centers expand, change the body of the changeling, then return to their normal form. Even the most advanced antimagic spells have a hard time deactivating all of a changeling's ability to change. They can transform into most similarly sized species, but need practice for species they haven't ever done before. All changelings with any connection to a hive learn to transform into the main three races of ponies before they could be considered older than a toddler. The biggest deciding factor in how much energy a different form takes to maintain is difference is size. Bigger disguises take exponentially more energy.
Mind Magic:
Hypnosis, suggestion, mind reading and mind control. These are all within reach of a changeling's magic, but they are not commonly mastered or even exercised. Most changelings consider the use of this magic to be a bit taboo and many more think it shows a lack of skill, but when used they can make a changeling nearly impossible to find without the assistance of complex magic.
Only queens and princesses are capable of complete mind control, but most can achieve pushing and suggestions. This power is particularly useful, despite it's 'weakness' because it leaves little suspicion. Most think of it's effects as an intrusive thought if the changeling fails to push hard enough or fails to give an idea the pony agrees with. It, however, is incredibly useful for neutral thought processes. Even if a pony knows a changeling is around it can be difficult to avoid being affected. Mind control, on the other hand, is almost impossible to get around, usually only attainable through training or difficult to learn magic spells. Downsides of mind control include odd behavior, a lack of complex thought processes and it being difficult to exert complete control over many individuals, though using looser forms of control mitigate these. Those capable of mind control can also switch their victims on and off, creating something akin to 'sleeper agents'
Hypnosis is more useful, but requires the pony to be in a complacent state. It is most often used to keep a pony in such a state while the changeling feeds. It requires several long moments, perhaps minutes, of attention given to the changeling and only the changeling and if a pony has a large amount of conviction against something they cannot be convinced otherwise, and may even wake up.
Mind reading is highly dependent on hypnosis, allowing the changeling to enter a sort of mindscape to seek out what they need to know and experience it firsthand. They can create surprisingly accurate acts through this, but have to know what they're looking for to a very specific degree. Its also possible to lie if the pony is keeping a secret they usually wouldnt tell anyone, or if they were aware they were being hypnotized.
Changeling Fire:
One of the more iconic abilities of the changeling race is their green flame. This flame is magical in origin and doesn't require anything to burn as long as the changeling feeds it a steady supply of emotion, usually they use the emotions that come attached to love to power the flame, but they also can use love to power the flame. A changeling controls the heat, height and overall power of the flame, but does need to practice to have precision.
Powerful Queens can also use these flames in unique ways, granting them teleportation and the ability to make things intangible.
Illusion:
Illusion is the one magic most changeling's can utilize fully. While other magics are difficult for race, anything to do with illusion is something a changeling's body, mind and therefor magic is naturally suited to. They can cast illusions on top of their disguise, they can imbue illusion charms and even manage illusion detection if given enough practice.
Exceptions:
Changelings can learn magics that are strongly correlated to the magics above, making them able to channel their suggestions into images, and create imagery from their mind, visualize thought processes and make 'realistic' illusions with the suggestion of sound.
Hivemind:
An important reason of why they have powerful mind altering skills is their main method of communication. The hivemind is a psychic bond between changelings of the same hive or changelings near each other. This bond can allow for communication of basic feelings, images, or complete 'verbal' communication. It's distance can be vast for those in the same hive, easily spanning cities but for those not in the same hive, after a block the connection is fuzzy at best. Queens can combine this with mind magic to exert commands and control over her subjects.
Culture:
Changeling culture is heavily influenced by the society the changelings are in. They tend to adopt most, if not all, of the behaviors the ponies around them have. Past that, they have their own sort of hidden culture that is almost never seen outside the hive. These traits are highly unique from hive to hive but some things transcend Hive barriers.
The Hive:
Hive's are large structure's usually placed underground and looking a lot like a sized up version of an ant colony, but sometimes they are in premade caves. Hive's are also placed above ground in places where the earth is soft, earthquakes are common, or there isn't a large population. For instance: changelings in south amare-ica have been known to make hives in the rainforest's canopy.
Queens:
All Hives have a queen, without fail. The queen has a large amount of control over the hive. With the help of the hivemind she can exert her will and influence to every member of the hive if need be...but usually this isn't the ideal case. In a healthy hive the queen merely maintains the health of her changelings, expands the hive if needed, and figures out how the hive will expand, along with whether the hive needs to split, grow or shrink. As long as the queen retains the respect of her hive she holds full control of her subjects actions without ever forcing them to do anything.
The queen
can
be the main mother of most the changelings in a hive, and when a hive is starting, usually is. She can quickly lay many changeling eggs and holds the capacity to give them all the love they need to grow. This makes a strong bond, even in times of strife, which can also serve to stress the queen more than usual. Most queens let the hive grow without laying eggs of her own, or at least not more than other changeling mares. Rumor has it that a changeling queen can be ageless.
Scouts:
These changelings are usually some of the most highly skilled in the hive. They may be old with a lot of experience, or social prodigies. Either way they find places for the hive to feed. They go into cities and find centers filled with love. After telling the hive where these places are they move to finding ponies that may be easy to lure into a relationship or that are honestly looking. It is nearly impossible for a hive to reach a point where every changeling has a steady food source, but it is the job of the scouts to try and attain that goal. Scouts also usually learn to consume love that has been left behind, floating in the air dimly, spread through rooms. This helps them keep their cover. Scouts sometimes develop unique physical traits due to their estrangement from the hive. Some of them also fall deep into their cover and can lose their identity. These few changelings become almost infinitely efficient with their acranophores, leaving them to be discovered when they finally run out of energy, if they ever do, be taken back by the hive and reminded, or even melt into pony society for years at a time.
Drones:
Drones are the standard collector of love in the hive, but they also help expand the hive. At any given point half of them are in the hive, and half of them are out. Ideally most would be out collecting love, but unless they are in a 'relationship' they tend to return to the hive at night, then stay until they are hungry again.
Soldiers:
Soldiers primarily stay in the hive and get love through it being shared. They are less skilled in disguise than most other groups of changelings but have more magical range, and are stronger of body. When threats face the hive, they defend it, whether it be discovery or war.
Princess:
Princesses are almost exclusively born from queens. They will grow up to be a queen, but usually are sent off to start their own hive, rather than staying and taking over the current hive. In fact, when a princess stays within her hive her progress into a queen can be stunted indefinitely.
Other
: Changelings are not a well studied species and in different groups other kinds of changelings have arisen. As has the ability for a changeling to change class based on need. These special cases will be discussed as they arise.
Psychology:
Sociology:
Many changelings are pathological liars, easily convinced to join social groups and have a very hard time if isolated from a group that they can consider close.
Gender:
Changelings hold the ability to be whatever sex the feel the most comfortable as. This is, however, impeded by which ever gender they are best at seducing as. While some changelings switch between freely, many specialize as one or the other.
Trust and Honesty:
A truly complicated subject. Within the hive changeling's value trust. Honesty, however, is something that they cannot afford for the vast majority of their time. Between changelings, they do not expect lies but also don't look down on them. When lied to they almost never take it personally and move on quickly. They hold trust that it was for the best.
Harmony:
Changeling's have no quarrel with harmony but are not imbued with it either. Though many theorize their relation to sirens, and windigos there is no link between them...at least not one that has been proven. Changelings prefer peace and try to preserve harmony when possible, but at the same time, are quite skilled in throwing things out of balance if they want to...or on accident.
Family:
Changeling families consist of two levels: immediate family and the hive. Mother, father, daughter, sister, ect, They are known and cared for just as in pony families, but the rest of the hive, the entire hive, is cared for by each other to the same extent one would treat an aunt or nephew. The only exception is new members of a hive or when two hives combine, the others are treated as strangers until made otherwise.
Age:
Age is a largely different concept in changeling hives. Their bodies age but it usually isn't visible and when transformed they can escape thing such as arthritis or scoliosis. They can't change their (literal)heart though and eventually time catches up with them. This makes aging feel much more sudden to changelings as, for all practical purposes, they retain a good amount of their youth until something cripples them enough that they can't transform. Death is almost universally looked at in extreme fear, with even the most idealized stories of the afterlife being sad stories to changelings.
Political Relations:
-
Equestria
: Changeling's have made repeated incursions on Equestrian ground many times in the past. Though they aren't native to Equestria, the country makes for a magnificent feeding grounds and many have, legally or otherwise, entered Equestrian society. They aren't seen favorably, especially after the "Black Wedding" as the changelings
were
going to call it At the moment it's more of a somber note, as one of the largest Hives has been crushed due to it. This is also an opportunity though, any hive, young and old alike has a chance at claiming the grounds near the equestrian border. The number of hives in and around the country is unknown.
-
Griffon Kingdom
: Not many changelings choose to make the griffon kingdom their home, the amount of conflict and competitiveness that hangs in the air can mess with a changeling's head. The disguises also take a bit more to maintain and a bit more to correctly pull off. All this combined with the fact that the changeling will probably need to eat
meat
puts off the vast majority of changelings. All that said, the ones that
do
live in the Griffon Kingdom have nearly no competition. There are very few hives in the Griffon Kingdom.
-
Caribou Union
: So far changelings have not been seen in their true form in the north. It is thought that certain legends unkowingly refer to them, but only time will tell.
-
Saddle Arabia
: Saddle Arabia semi-recently pushed a large volume of changelings out from the main city and past its borders. At the moment very few changelings are in the country at all, though not as lovely as Equestria, it serves as a prime picking ground due to its lack of magical prowess.
-
Crystal empire
: No Changeling's reside in the crystal empire. They can't seem to replicate the crystal texture of the ponies....yet.
-
Buffalo
: The buffalo have good and bad relations with changelings. They don't have many problems with the species, but in buffalo legends it is not uncommon for changelings to play tricksters that succumb to their own tricks, but also happen to play man wise roles in other legends as well.
-
Diamond dogs
: Largely ambivalent. The only issue between these species is that they both live underground.
-
Dragons
: Changelings and dragons can get along surprisingly well, if it's an adult dragon. Their mutual affinity for trickery and riddles lets them have long talks without fighting. They also can share mountains as Hive's and homes. This usually forms a symbiotic relationship where the changelings occasionally add to the dragon's treasure trove and the dragon protects the hive, such Hives are usually quite powerful.
-
Batponies
: No full hives have ever infiltrated a batpony colony with much success. Most Changelings can only go days before being found out, but a select few changelings have hidden for long periods of time, within a colony, and gained great magical reserves from it. The amount of love makes Batpony colonies incredibly tempting, but batponies themselves usually dislike changelings, think they're untrustworthy(usually the case when they meet changelings) not to mention changeling's are arthropod like, which doesn't help the relationship.