Post by Deleted on Feb 10, 2016 17:08:45 GMT -6
Oh, what a beautiful morning. The sun was shining, the leafs were rustling, everypony was out and about during the busiest time of the day ( or was that the late afternoon?) and no matter what their task ways, most people seemed to be content on slugging through it with all of their companions for the day. Whatever your job was - building, baking, barking - it was time to get to doing it. The youngest amongst them all played so well with eachother, their sweet laughter echoing across the square as they played their little games of tag. A few little gatherings here and there, gossiping on how their day was going, shuddering at how cold this winter was, yet they all knew that if they stood together, they could persevere. Small touches like this could leave one's heart in a righteous mood. It was so pleasant, so sweet, so...
ĐƗSǤᵾSŦƗNǤ
Look at them all. Look at them all smiling and prancing and happily going through their day. Look at those smug faces, those lively eyes filled with love towards one another. When did
he
last see something so intense? Oh, it was a little while ago...in a little old place called Canterlot. He saw it on the faces of so many of his friends and family members. On the face of his
Queen
. A look that said 'this day would be good'. And where were they now? His beloved Queen...shattered. His people broken. Gone. GONE.
GONE!
And these little twerps actually kept laughing, as if they deserved to be happy.
Sure! Let them. If it wasn't Canterlot, it would have been them, right? Wrong place, wrong time? Wrong situation? Perhaps in time this place would be next. But for the moment, for a certain changeling, there was plenty to do that didn't involve feeling mournful of the past. Like, for example, eating and staying alive. He was still loyal to
HER
after all. Mommy Dearest would need him at full strength. He knew she could still contact him, right? If not, he'd have to track her down and drag himself right to her side. All to her side. She could still offer him leadership, no?
Him?
Her
in this case. Let's go with her. She was a beautiful her right now. After all, to keep healthy, he needed to feed, otherwise his disguise would fizzle out and - brother - that was NOT going to end well for anyone. The last thing she needed was the townspeople swooning over her true form. She could understand. It was too beautiful for them to look upon without feeling inadequacy. That is why her kind was often attacked. The poor dears, she would feel sorry for them if they weren't disgusting.
The time had come to have a little sip. But first, she would need love in some form. Sympathy had such a delicate aftertaste. Love borne of sympathy was fleeting but strong. Coupled with a tender helping of 'like' and 'charmed' , this could prove to be a variable buffet. First. The set up. Stepping out of the shadows of a nearby alley, one could hardly catch the glowing green eyes from beyond, the quiet yet sinister chuckle and the slight phasing arch of power as the changeling went through it's magical transformation. She took the form of a deep, deep blue mare with gradient cyan patches over her muzzle and legs, long and stylized mane alongside a tastefully messy tail of the same hue and likewise decorated by vibrant cyan highlights. Mark? Uh...let's see, three bright blue lightening bolts, crossing eachother above a bulb. She bore a very neat little combo, a purple-violet ribbon at the back of her locks, a neat bowtie and pinstripe vest combo of the very same color and sine-wave hoof bands for that extra studious look. Oh, why not just add in glasses? Yes, perfect. Rotund, fine lenses and fabulously blending attractive and...dorky? Smart. Yes. Smart. Throw in a little swirling, pointy horn and - tada! A visitor from out of town that happened to waltz in. Oh, this was going to be beautiful.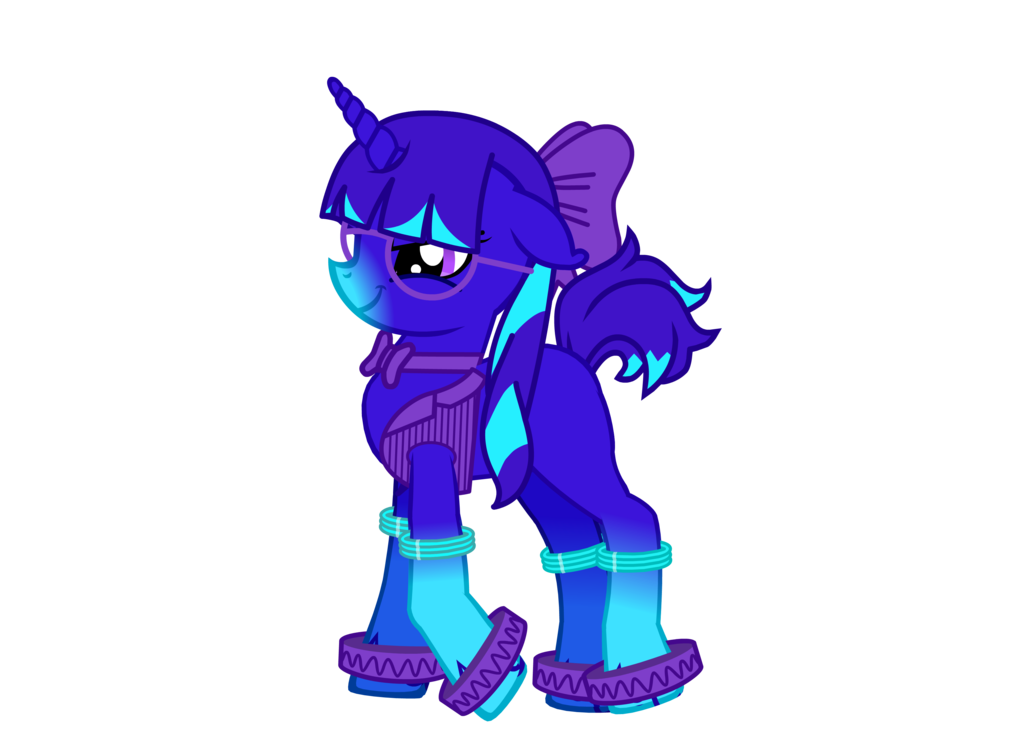 The set up was simple. She'd asked a few people to move things here and there. Nudged a busy worker into stacking some barrels the wrong way, set up a tied up wooden box near the upper window of a building. It was right by another alley, perfectly placed. Not too crowded so it wouldn't get EVERYONE'S attention, just one or two...all she needed. Combine that with the sight of a lost unicorn glancing down at their notes and humphing to themselves. All too late they moved them along and found a place right out of the sun, before...
Snap!
The rope was heard, sensitive ears could even hear the crate drop down onto the pile of barrels, shattering next to them and knocking several over onto her , their thankfully light weight contents spilling onto the ground, unfortunately knocking the poor blue thing onto her side as she's showered by barrels, joined in a rather timely manner by a shout of surprise and a grunt. A little cry of pain was given out, followed by a demure and whining voice.
"H-Hello?! S-Somepony...? Help...? I-I t-think I t-twisted something!" It sounded desperate. Afraid...shocked? Oh, wow, she was swooning over herself at this point. This, however, was the painful part.
SNAP. CRACK. CRUNCH.
A good actress always plays her part to the fullest...in this case, it meant actually breaking the bone structure of her leg for this form. It wasn't pleasant, but she had to make sure it looked believable.
Now, all she had to do was wait for the right
meal ticket
. I mean opportunity.