Rufus
Mar 29, 2016 16:30:50 GMT -6
Post by Deleted on Mar 29, 2016 16:30:50 GMT -6
||| RUFUS |||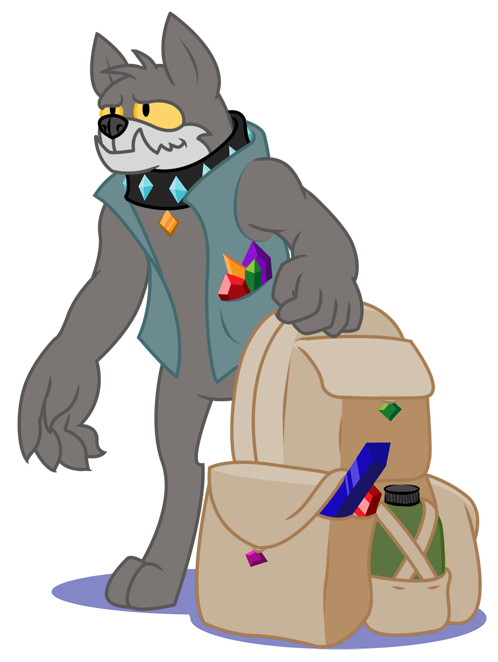 ---

#Name; Rufus
#Age Group ; Young Adult
#Gender ; Male
#Species; Diamond Dog
#Cutie Mark ; N/A
#Occupation ; Wandering gem merchant
#Powers and Abilities ; Being a dog, Rufus has a strong sense of smell, allowing him to sniff out and track anything giving off a particular odor. As a Diamond Dog he also is very good at digging and finding gems.


---





---


#Physique ; Rufus is average in size for a Diamond Dog, being about the size of Fido (the one of the three Diamond Dog leaders that's in the middle in terms of size). His legs are longer and his arms are shorter than most Diamond Dogs, so he tends to stick to walking on his hind legs.
#Mane and fur color and style ; His fur is a neutral grey color.
#Eye color ; Golden yellow
#Other appearance details (optional) ; Rufus has a diamond studded collar on his neck, indicating his high position in Diamond Dog society. He also wears a black vest with pockets lined with small gems and a large backpack packed to the brim with supplies and other, larger gems. In terms of what breed of dog he looks like, Rufus somewhat looks like a grey Shiba Inu.


---





---

#Personality ;



Although he may look menacing at first, Rufus is actually surprisingly nice if you get to know him. He's calm, methodical, and patient, making it hard to make him upset or mad. He's also somewhat cowardly, and doesn't like the idea of doing anything he isn't comfortable with doing. After leaving his home Rufus quickly adapted to pony society, although ponies have tended to be not as accepting to him as he was to them. As a result, Rufus is slow to trust ponies, though with other races he is more comfortable around. An exception to that is Dragons however, as Dragons and Diamond Dogs have a long history of their greed causing them to fight one another.

Rufus may be "simple minded" as some may put it, but he isn't necessarily stupid. He can grasp the concept of things he doesn't understand fairly quickly, though having lived in a cave for most of his life there's a lot of thing he still doesn't understand. His odd speech pattern is also misleading to his actual intelligence; he doesn't speak oddly because he can't not speak that way, it's purely out of habit as all the other Diamond Dogs spoke that way as well (it's like an accent pretty much).

Like all Diamond Dogs Rufus loves gems, though he isn't as willing to go to extreme lengths to get them like most Diamond Dogs will. Still, if he sees a gem he wants he'll go out of his way to get it, often trying to bargain or reason with the holder of the gem (if there is one) in order to get it. Although he does sell gems, he has a personal collection of "not for sale" gems he keeps in a hidden pocket in his backpack.





---





---

#History ;



Rufus was born in the Diamond Dog community that lives in the mountains outside of Ponyville. Having being born in one of the three "leader" families, Rufus lived in luxury (or at least the closest to luxury a Diamond Dog could be) and even as a pup had his own personal gem collection. Being the younger of two brothers, Rufus always assumed his older brother Spot would assume the role of leader, leaving Rufus to live a pampered life without much responsibility. However, when Spot fully grew up and ended up still being small while Rufus, then a teenager, kept growing, it seemed that he instead would be leader. Unlike his brother Spot, whom from an early age was looking forward to assume the role of leader, Rufus was terrified of the idea. Rufus simply didn't think he had what it takes to lead his fellow dogs.

So, the brothers made a deal. According to tradition, the strongest male of a leader family became a leader, which meant that Rufus would become leader. Rufus simply giving the title of leader to Spot was an option, but willingly giving up the title of leader to a relative weaker than yourself would no only make Spot and Rufus be looked down upon, but their entire family as well. However, there was an exception to this rule; if the strongest male could otherwise not take the role, due to serious injuries, death, banishment, or him simply leaving the community, the next strongest male would take his place. So, Rufus agreed to leave their home, while Spot gave Rufus some of the most valuable gems in his collection to him. So, Rufus left, and when their father died not to long afterwards Spot inherited the title of leader.

Rufus wasn't really sure what life outside of the tunnels was like, but he assumed it couldn't be that difficult, right?

Wrong. After getting drove out of the first pony village he stumbled upon, Rufus realized he was going to have to either adapt to this new environment, or spend the rest of his life as a hermit living in a cave. Eventually, Rufus decided that as much he loved his gems they were really weighing him down, so Rufus began to sell some of his less valuable ones for these odd gold pieces called "bits" that ponies used to buy and sell things. It confused him that they didn't use gems for currency like Diamond Dogs did, but at least he could buy food with them.

To this day Rufus is still traveling around Equestria selling gems. He'd love to settle down somewhere, but most ponies don't like the idea of a Diamond Dog living in their town.





---





---




The Roleplayer's Corner


#Nickname ; Billy Mays

#Age ; How old is the universe again?

#Gender ; Male

#How did you find us? ; Through an advertisement on a site that I found through an advertisement.

#Sample RP ;



A lone figure stood at the top of a ridge, looking down at the landscape below. There were random lava pools scattered about and vents bellowing steam as far as the eye can see; as to be expected in a volcanically active area. It was the middle of the night, the darkness enshrouding everything except the starlit sky and the fiery hellscape that stood before the lone figure. Thankfully, years of living in tunnels made the lone figure's eyes be able to see easily even in near absolute darkness.

How insane do I have to be to be here? The lone figure thought to himself. The more obvious dangers of being burned to a crisp by lava or steam wasn't the only thing threatening. There were also Dragons in this area, who not only hate it when others enter their territory, but also had a long history of not getting along with members of the lone figure's species. He knew if he ran into one it wouldn't think twice about attacking him.

Still, the lone figure put his thoughts aside, not letting them deter him from his mission. He had heard in this part of Equestria there was rare gem called the Fire Ruby that was said to carry the essence of fire itself. Hopefully he could get a couple to sell and one to keep for himself...

The lone figure climbed down the ridge into the valley below, being especially careful not to drop the heavy backpack he carried. As he reached the bottom he slowly creeped around the valley, being sure to stay away from the lava pools and vents of steam. He continued moving along until stopping somewhere in the middle of the valley.

This is where they'd be, the lone figure was certain of it. He was able to use his sense to find gems, and his senses never lied. At that spot, the lone figure set his backpack aside and started to dig. It didn't take him long to dig deep enough into the ground that he was unable to see out of the hole, as his claws were always meant for digging in the first place.

Suddenly, he struck something hard. As he dug more, he could see something shiny and red among the dirt. There was no doubt about it; it was definitely a Fire Ruby. As he dug more and more, he found several more gems. It was a whole vein of Fire Rubies!

As the lone figure excitedly scooped up as many of the gems as he could, he began to hear rumbling. His ears could hear a faint noise from the earth, a noise too quiet for a pony or most other races to hear. He didn't know what it was, except that it wasn't good. Taking all the Fire Rubies he could, he climbed out of the hole and quickly stuffed the gems in his backpack. As he put the backpack back on, a loud sizzling noise could be heard. The lone figure looked back down into the whole and saw that steam has erupted out of the wall of his hole and had he stayed in it he would have been deep fried by it.

Breathing a sigh of relief, the lone figure made his way back the ridge he came from in order to escape with his loot. As he walked past a pool of lava though, something came out of the pool, making him jump.

It was two dragon teens, from the looks of it. They were bathing in the pool, talking and laughing about some "egg raid" they did earlier. Their eyes, which weren't as accustomed to the darkness as the lone figure's was, could not see very far past the pool of lava they stood in. Still, and sudden movements or noises could set them off, so the lone figure slowly but surely snuck past them. When he felt he was far enough away, he quickened his pace and finally began to climb up the rock wall he came from.

Just as he was about to reach the top though, the lone figure almost fell when a few rocks came loose and tumbled down into the valley. After regaining his composure he kept going, but froze in fear when he heard a loud, "OW!" from below. He looked back and saw that one of the rocks that came loose had fallen down and hit one of the two Dragon teens right on the head. The two Dragons immediately climbed out of the pool and looked around to see where the rock came from.

The lone figure was now climbing up the rock face as fast as he could. But just as he reached the top, he heard one of the Dragon teens shout, "Hey, over there! It's one of those Diamond Mutts!" Of course, that meant they had spotted the lone figure. Not wanting to stick around, the lone figure made a break for it and ran into the nearby woods, the two Dragons hot on his tail. Thankfully, he manged to hide behind some trees, and the two Dragon teens ended up flying right past him. Once again breathing a sigh of relief, the lone figure ran off deeper in the woods, whilst making sure the Dragons weren't following him.

When he felt he was far enough away, the lone figure sat down and opened up his backpack. He went through all the Fire Rubies he got, and picked the largest and brightest one to be his own while the others would be sold off for profit.

"You're mine now," the lone figure said to the gem, holding it close. "You're all Rufuses..." He stared at the reflection of himself in the gem, the stars in the sky giving of just light to make the gem sparkle. "My precious..."