Quill
Dec 7, 2012 15:49:37 GMT -6
Post by Deleted on Dec 7, 2012 15:49:37 GMT -6
||| FEATHER QUILL |||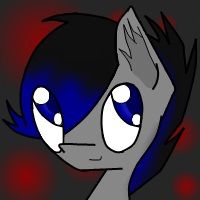 ---

#Name; Feather Quill (just goes by Quill)
#Age Group ; Teenager
#Gender ; Female
#Species; Pegasus
#Cutie Mark ; A simple feather pen.
#Occupation ; She runs a small (SEE: miniscule, tiny) quill and ink shop on the outskirts of Ponyville.
#Powers and Abilities ; She has a certain way with words that inspires many emotions in the readers.


---





---


#Physique ; Slim, almost scrawny. Long legs, but still manages to be short.
#Mane and fur color and style ; Mane is blue at the tips, but dark gray at the roots. Fur is a light gray. She keeps her mane combed over one eye, with the back very short.
#Eye color ; Dark blue
#Other appearance details (optional) ;
#A more thorough description (optional) ;


Quill is a short, thin pegasus with long legs compared to her body size. She keeps her hair short, with the front part of her mane combed over one eye. Her fur is light gray and her wings are average-sized. She wears glasses when she reads or writes, or really whenever she feels like seeing clearly. Her wings aren't particularly strong, but she can fly easily enough, due to her severe lack of mass.




---





---

#Personality ;



Quill is a shy, introverted pony. She avoids large crowds and parties, and prefers to stay out of the way of other ponies. She likes small towns and secluded areas, like Ponyville, where everyone knows each other. She keeps to herself, though, and doesn't have very many friends. She spends most of her time either in her shop, or at the Ponyville Public Library, reading. She doesn't talk much, but she's very sweet.
She is also very possessive. She won't let go of something that belongs to her. She gets jealous pretty easily, which has driven some ponies away from her in the past. She's protective of the things and ponies she loves, and she's very dangerous when you hurt one of them.
She can also be very affectionate. Quill is quite silly and has a vast imagination, which makes her a very good writer. Her intelligence also helps with that, but it could also be her downfall. She has little tolerance for ignorance and more often than not, her voice is laced with sarcasm. Still, this could only be a way to hide her insecurity.
There aren't many things she really loves, but chocolate is one of them. She would do almost anything to get her hooves on some chocolate. On the opposite end of that scale, though, is dogs. Large dogs terrify her, although she's fine with puppies and smaller breeds.





---





---

#History ;



Quill was born in Cloudsdale to a pair of pegasi named Test Tube and High Flier. Both were highly intelligent and hoped that their daughter would follow an academic path. They were worried when she began to take an interest in creative writing. They pushed her towards math, forcing her into advanced classes. Test Tube and High Flier put vast amounts of stress on their young daughter. Finally, when they realized she refused to do as they wished, they disowned her. They kicked her out of the house, saying she could return when she had given up on her foolish dream.
Just barely a teenager, Quill was alone on the streets of Cloudsdale. Her first thought was to find her older brother, who she stayed with for about a year. During that year, she took an after school job at a local book shop. Once she had earned enough money, she went in search of a small town to settle in. She wandered for two months before she stumbled upon Ponyfille. Here, she used the last of her bits to rent a very small building on the outskirts of town and opened a quill and ink shop. She used the space above the shop as an apartment, furnishing it sparsely with what little money she had. Her income was just enough to survive.
Quill still lives in Ponyville, having made it her home for the past year. Her shop recieves little business, mostly from a few regular customers. The only ponies who might know of her at all, besides those few clients, are Pinkie Pie (she knows everypony) and Twilight Sparkle (since she spends so much time at the library).





---





---




The Roleplayer's Corner


#Nickname ; Quill

#Age ; 16

#Gender ; Female

#How did you find us? ; I don't even remember, actually. I think it was an affiliation with...Chaotic Thrones or something.
#Sample RP ;



Quill trotted slowly around her shop, reviewing her mental checklist. each shelf was properly stocked and labelled, her store room was full of a variety of quills and bottles of colored ink. She knew she would get very few--if any--customers today, but she didn't mind. She lived a simple lifestyle and her small business supported it just fine. She was proud of herself. For the past year, she'd been living completely independently. She could pay for her own food and the roof over her head, and she lived alone. The shop was a building on the outskirts of town that she rented for a pretty low price. All in all, she did well for a teenager.
As she was about to flip the CLOSED sign to OPEN, a faint smell reached her nose. A soft, warm, sugary smell, and her stomach rumbled irritably. On the best mornings, vague smells from the local bakery wafted over the entire town. Quill bit her lip and, after a moment's consideration, she made her decision. Since she had not had breakfast the past couple of morning (she often just forgot), she would treat herself today.
The walk to Sugarcube Corner was pleasant. It took a while for her to make her way there, but it was a sunny day and not many ponies were out yet. Upon arriving in the store (with her belly growling angrily), she extracted a small number of bits from her saddlebag with which to pay for a pastry. The decision on what to buy would normally be difficult, but this particular morning she was craving a muffin. Choosing a particularly chocolatey chocolate muffin, she placed the bits on the counter and made her way to a small table in a corner with her breakfast.
As she was eating, she watched with a certain interest as other ponies entered and exited the building, noticing what each pony bought, who they talked to, how they acted. Sometimes, if she saw a particularly intriguing pony, she would make up a story in her mind about them. She saw one purple pegasus who was talking excitedly with a blue earth pony. Both ponies used low whispers, and the blue one seemed very serious. She imagined that they were discussing secrets that could change the lives of every pony in the nation.
She saw another pair, this time a plain brown earth pony and a pale green unicorn. They seemed very familiar and talked comfortably, and she imagined them in school together, as younger ponies. There were a few children using their pocket money to buy sweets far too early on a Saturday morning, and two teenage fillies sitting at a table together, each with a milkshake. Within a few minutes, however, her pony-watching was interrupted by a voice.
She didn't react at first, but stared at the pony in surprise when she realized the words were addressed to her.
"Haven't seen you around before."