Post by Spitfire on Jun 24, 2014 1:18:31 GMT -6
||| Spitfire |||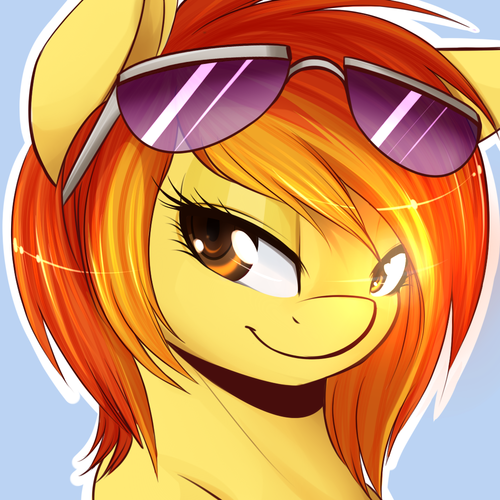 ---

#Name; Spitfire
#Age Group ; Young Adult
#Orientation; Bisexual
#Gender ; Mare
#Species; Pegasus
#Cutie Mark ;
#Occupation ; Being completely rad. (As the captain of the wonderbolts, that is.)
#Powers and Abilities ; Flight (Obviously.) Accounting (Read: Not going bankrupt feeding Soarin's Pie Addiction) and Organization. Fire Resistant (To a point)


---





---


#Physique ; Thin and Acrobatic, a little muscle.
#Mane and fur color and style ; Yellow Coat, Orange and Yellow shaggy mane, usually swept up.
#Eye color ; Orange


---





---

#Personality ;



As you would expect from a Wonderbolt, Spitfire has Excellent Drive, and plenty of Spunk. While she grew up a bit of a troublemaker in her mothers eyes (Wanting to do nothing but fly better, and faster instead of play piano and dance) Spitfire was always a good Filly. She turned in all her homework on time, even doing the extra credit. She ignored the ponies that called her a nerd, or egghead, only grinning in response because she knew from the first day she saw them, she would be a Wonderbolt.

Before she became Captain, while flying with the Showteam, she was laid back and enjoyed a good prank as much as the next pony. All of the Wonderbolts were like family to her, and she was always in a good mood around them.

When she became Captain, her attitude changed just slightly toward the crew she once thought of as Brothers and Sisters. They were still family to her, but now she had to, from time to time, play boss. She sometimes refers to herself as a Mother, the Wonderbolts being like children to her. She loves each and every one of them, even if she does want to bop them upside the head from time to time.




---





---

#History ;



Spitfire was born in Canterlot, where her Mother was a Nurse and Father was part of the Weather Patrol. She doesn't remember living there, as her family moved to Cloudsdale at a young age. Her mother had been transferred, Canterlot General having a bit of a staffing faux pas.

Spitfire didn't mind, though. This meant she was closer to Flight Camp and the Best Young Flyer competition. She watched the older ponies as they were trained at the camp, and made sure to beg her parents to get good seats for the competition EVERY YEAR.
During a Wonderbolt Show, her father surprised her with a meet-and-greet with the Wonderbolts that she had started to love so much. During the Meet, she told Jetstream that in a few years, she'd be flying with them. Admiring the kids spunk and drive, Jetstream gave Spitfire a gift. A pair of Goggles, signed by Jetstream. A treasure Spitfire holds dear TO THIS DAY.

Spitfire got her cutie mark at Summer Flight Camp. She was a good flyer before signing up for camp, but had some things that she needed to work on. During a small celebration party a few days into camp, the young ponies decided to have a bit of a 'talent show' to see who the best flyer at the time was. During Spitfires run, she decided to make things a little more interesting using burning rings instead of the boring not-burning kinds.

She flew through the ring, performing a tuck and roll to cause the fire to swirl around her. Some of the fire stuck with her, catching the tips of her wings. She swooped up, flaring the wings open quickly and extinguishing the flames on her wings in a bit of a light show. One of the other Ponies pointed out the new Cutie Mark, aptly symbolizing a Phoenix.

Unfortunately, with her mother being a hoity-toity pegasus that spent way too much time in Canterlot, Spitfire was also forced to learn some 'high class' skills. Weekly Piano and Ballet Lessons made sure to give her 'an outlet for her creative side'. Spitfire didn't necessarily hate it, but she didn't see how that would help her with her dream to be a showpony.

Her question of how the lessons helped her flying came to her a couple years later, when she won the Best Young Flyer competition to the beat of Beethoovens 5th. Knowing the song, her body knew when and how to move on instinct. The Ballet giving her the flexibility to keep her movements clean and fluid.

After winning the competition, she joined the Wonderbolts Academy. Everything in her life leading up to the moment that she'd join the Wonderbolts. She became the Lead Pony for her team, and took her teammate to the winners circle with her, joining the Wonderbolts shortly after they graduated from the academy. Her partner, Icy Wind, left after Graduation, and Spitfire hadn't heard from her since.

Working her way up through the Wonderbolts, Spitfire was almost overwhelmed by the sheer reality of what was going on. She was with the Wonderbolts, officially. She started out small time, cleaning the Wonderbolt HQ, doing laundry, cooking. Regular intern things. Unlike many of the other Pegasi at her level, she didn't jump on every opportunity that came up. They were very minor. She needed something BIG.

That BIG thing came during a party the Wonderbolts were going to perform at. One of the main show team had gotten sick. She offered her services to Jetstream, who gave her a quick 'interview' and let her take the place of the sick pony. And just like that, she was on the fast track to glory.

Jetstream became Spitfires best friend, and mentor for the next couple years. All the way until Jetstreams retirement, Spitfire listened to every word, accepted all of the advice. Because of her friendship with Jetstream, and her performance as a Wonderbolt, Jetstream gave her one final gift on retirement. The Title of Captain.





---





---




The Roleplayer's Corner


#Nickname ; Silver Tongue

#Age ; (-6)*(-5+(-7)/(-7))

#Gender/Preferred Pronouns ; Male

#How did you find us? ; I turned on my Awesomness Detector and it EXPLODED When I pointed it at this place.

#Sample RP ;
Imprisonment and Torture!
"Spitfire, It's time for your piano lessons." That voice. She loved it, but hated the words that came with it! She hated playing the piano. But according to her mother, a proper lady has some sort of skill in music. She knew this wasn't what she was gonna do when she grew up, but for her Mothers sake, she muscled through.

"Why do I need to know Beethoovens Moonlight Sonata anyway!? It's so slooooowwwww" The young Filly asked as she floated lazily down the stairs, hooves clacking across each step, allowing her wings to slow her descent to the ground floor of her family home.

The smile she was given was something she wasn't expecting. An understanding smile, but one that was hiding something. "Then how about Beethoovens 5th?" Her mother asked, sitting at the Piano and starting the music. The intensity Spitfire was hit with blew her away!


Realization and Acquisition!
Spitfire climbed onto her fathers back, trying to get a better look over the crowd. They were at a Wonderbolt Show! Spitfire adored the wonderbolts! Holding a little plushie of the Captain of the Wonderbolts, she watched intently at all of the maneuvers and lights and excitement. A happy giggle escaped her as she watched on in awe.

After the show, her father surprised her with some news. He had pulled some strings… and was going to introduce Spitfire to the Wonderbolts! She could barely contain her excitement as she met Jestream! Her favorite Wonderbolt! "Heya Kid. We hear you're a big fan of ours?"

"Yeah! I've been to all your shows! And when I grow up I'm going to be flying next to you!" The young Filly said with Determination and fire in her voice.

A light laugh escaped the Wonderbolt as Spitfire had her mane ruffled by a wing. "You're a cute kid. I look forward to flying with you! In fact, I have somethin for ya. Close your eyes." Spitfire did as she was told, excited for whatever the Wonderbolt was g…. There was a bit of added weight to her head. What'd she do? "Alright, Open em!"

When Spitfire opened her eyes, the world looked different. She had goggles on. SHE HAD THE WONDERBOLTS GOGGLES ON! Her wings flapped and she shot forward, hugging the Wonderbolt tightly. "I promise I'll take good care of these, and wear them ALL THE TIME!"


Acceptance and Excitement
Spitfire stood shoulder to shoulder with the other ponies she had flown with in the academy. A gold pin hung from her uniform, signalling that she was a Lead Pony to another Pegasus, a few years older than she was. Her heart raced, her brow was beading with sweat. Today was the day they'd find out who made the cut.

Four pairings. Four of the Eight in this set of cadets. That's still a 50% Chance. She closed her eyes as the captian spoke. "Thunder and Lightning." Twin Mares high-hoofed and walked off. That narrowed her chances. "Stormy Skies and Calm Wind." No! That wasn't her either! "Silverwind and Gust." She was now down to a 20% Chance to move on. She winced, her eyes closing tightly enough she was starting to see colors.

"Icy Wind and Spitfire." Her eyes snapped open and she hopped excitedly! She was officially a Wonderbolt. Granted it was more like an internship for the time being. She was still at the bottom of the Pecking Order, but she'd move her way up quickly enough!