Post by Deleted on Apr 7, 2016 11:30:06 GMT -6
||| MWALIMU |||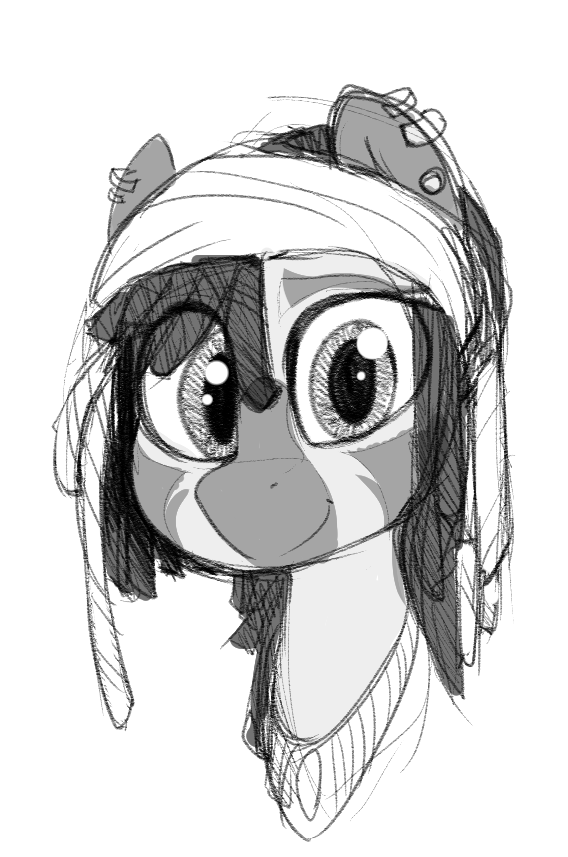 ---

#Name; Mwalimu
#Age Group ; Adult
#Orientation; Heterosexual
#Gender ; Male
#Species; Zebra
#Cutie Mark ;

A tribal tattoo is painted upon his left flank. A mixture of pigments brushed into the skin and fur, this tattoo symbolizes the Power of Love. It is said to hold a latent hint to his true name.
#Occupation ; Many of the beings that have met this strange zebra have often times found it difficult to cite just exactly what he was doing around their locale. Some have reportedly seen him selling rare and exotic trinkets (often times baring what he calls an accidental curse'), others have observed him offering exotic entertainment such as music and storytelling ... Whilst others have come across his exotic carpeted 'spot' in which he often sits and fills the air with his smoky incense. But no matter what odd job this enigma is working, he insists that his real purpose lies in his name - which is literally the zebra word for 'Teacher'. Mwalimu is a self styled guru and teacher, a wise man who often times seems a little enamored with his smokey incense. He offers assistance to others, advice and wisdom, which he supposedly imparts through the use of his 'state of heightened spiritual awareness of spirits' and ritual masks. He imparts genuine wisdom when he can, offering solutions to others through baffling means, other times offering the option to give his 'pupils' a trinket to help solve their own problem... But with the warning that greed and easy answers also come with a cost. Despite this, he seems to love the act of teaching, offering his strange and eccentric creations along with oddball sagely advice to ponies young and old.


#Powers and Abilities ; Mwalimu's mysterious abilities are numerous, however most of this is either pulled off with old traditional knowledge, technique and enchantment. It is said he is capable of calling down the spirits of his ancestors in order to help give him clarity and bestow a suitable blessing or curse (or both) upon an item. Despite how it may sound, his speciality does not allow him to look into the future - rather it allows him to learn more about the world around him and expand his center of knowledge. Likewise, it allows him to know a bit more about a person he is talking to, by examining their persona. With the use of his masks, he is able to call forth the talents and wisdom of the elders, even allowing them to speak through him.

Aside from that, his choice of vocation as a guru is not mere boasting or exaggeration. The various herbal mixtures he produces, whilst relaxing and medicating, are actually very potent spiritual foci and help to make one more relaxed and open. His knowledge of rare herb mixtures allows him to make a variety of different concoctions for anything from meditation to enhancing one's feelings.


---





---


#Physique ; Mwalimu's physique is very much on the lanky side. Densely muscled yet tall in stature and leaning on the athletic side of things.
#Mane and fur color and style ; Akin to most of his brethren, Mwalimu's upkempt fur is a muted white marked with deep black stripes across his form. Or is it the other way around? By the looks of it, not very likely, as the white fur seems to dominate the most of his form whilst the black mostly ekes around his back and underside, along the back of his neck, down his limbs, his cheeks, ears and muzzle, the stripes themselves far from straight - more wavy and pointed in nature, lending quite an interesting and oddly distorted looking blend. His mane is much akin to the rest of his coat - a mixture of white and black streaks. Often times, it is styled into a wild dreadlock style with uneven and rather down-flowing black and white locks, often kept together and decorated by wooden beads and a patterned white rag.
#Eye color ; Deep Green
#Other appearance details (optional) ;
#A more thorough description (optional) ;


Standing a half-head taller than your typical Earth Pony, this zebra is a tall, lankly figure with a rather loose and athletic looking physique, youthful and heartful features alongside a short, blunt muzzle and large, expressive eyes. He appears talled and raggedy, with thinner, taller limbs and neck, all of which are emblazoned with his kind's fantasticly unique black stripes, slightly wavy in their projection and ending quite sharply. His physique compliments his chest and flanks, which are pronounced yet sharp - easily giving away the perculiar tattoo upon his right flank for all to see.



A mass of black and white dreadlocks is tied down by a strip of decorated red cloth, depicting what appears to be simple decorative tribal markings. His typically half-obscured floppy ears are each pierced with what appear to be small golden rings and a single emerald stud on the base of each. His tail is relatively long, it's brush like 'tip' extending almost equal to its length, flicking with a curiously quick motion. He wears a multitude of fine pieces of jewelry, most commonly a scalloped , segmented bronze necklace with a rather large red gem affixed to it's centre. The gem itself seems to be exceedingly smooth surfaced, giving off a faint red light in the darkness. Other accessories include silver anklet-like hoof caps with extending, wavy tips snaking around his legs and typically unshorn fetlocks.




---





---

#Personality ;



How can one pin down the personality of something as eccentric as The Mwalimu? He is an odd zebra. Even amongst his kind, he could easily be seen as eccentric or just a little off his rocker. Often times, his personality changes very quickly, particularly after 'invoking the ancestor spirits'. Though he rarely ever becomes anything self-destructive, his connection to the spirits occasionally cause another stray persona to shine through, displaying some odd changes of mannerisms. However, those that have met him tend to describe Mwalimu as a very relaxed and pleasant soul, often times in very good humour and typically open to japes, games and pleasant conversation. He's a jolly sort, unafraid to indulge in happy revelry with anyone regardless of their typical style, age and culture. He has even attempted to engage in the sophisticated from time to time, though that never tends to look...right, coming from a relatively mangy looking outsider.



Mwalimu has been known to be just and tempered. He has a love of teaching others and helping them improve upon themselves - yet his unafraid to call judgement when he sees an unjust or depreciating act being committed. Though he rarely addresses the problem directly, he often takes more subtle steps to steer others towards a road of redemption and self-assistance. In his eyes, everyone has flaws. One may embrace those flaws and try to improve upon themselves, they may leave themselves as is and thrive in what they have...or they may attempt to fight their weaknesses and risk a bloodied nose. But no matter how dire the circumstance, everyone deserves to bring out the best in themselves and use it to their fullest potential. To many of those that meet him, this makes him seem like an eager sort of zebra, oddly prying and invasive but greatly appreciative of the little things. His strange quirks and odd rituals make him seem a little outlandish, however rarely does he ever seem to be anything threatening or discomforting.



Mwalimu has a great respect for the dead and the deeds of the past. As such, he will often times be as interested in the family history of the people he meets as he is themselves. Inevitably, he will preach his gospel of 'profound wise wisdom' to them, sometimes coming off as utter gobildygook or curiously veiled intellectual observations. There is no doubt, however, that he is far smarter then he lets on. He is highly proficient in forms of craftsmanship and strange magics that tend to mystify those around him. And as mysterious as his true identity is, Mwalimu is often happy to answer with an introspective poem or soul-searching trial. All you need to do is sit with him on his carpet, share in some of the fumes, perhaps take a breath of his pipe and share in your thoughts with him.





---





---

#History ;



A good question one may ask is - just who exactly is Mwalimu? They wear a title more than a name, and they wear it with pride. Just who is the real zebra behind all of this? Well, he himself offers several different tales, yet there is one he tells rarest of all. One he only tells with a hushed voice and an introspective look around a fire.

The tale of a young colt raises amidst a curious tribe in a far away land. One day, the young colt was playing near his village, chasing after his friends in an attempt to mark them with a paint-covered stick. His mother, their seer, was a sour sort. She berated him, for all she saw within them were the misdeeds whispered by their ancestral spirits. The colt shrunk away - on one hoof, she was his mother, a wise mare in the eyes of the villagers. On the other, he too was blessed with her unique sight, a catalyst for the potential of the past...and his young, innocent mind saw not the past their family has wrought, but rather their innermost light. They were his friends, and he cared for them. So, he attempted to show his mother the beauty of what he saw.

And, so, they sat in a tent together, bathed in the smoking essence of the Spiritroot and the smouldering mixture of herbs presented before them. She reached out to touch him as she had done so many others, attempting to share in his sight and gaze upon herself. At first, she quizzically murmured that she could see nothing. Yet, minutes passed, and she grew more and more tense. At last, she broke out of her trance, eyes wide and sweat beading off her. She looked upon her foal and wept, for through his eyes she had seen the upheaval of her inner self and feared. The colt, who could see the patterns of discord on her soul , gave advice far beyond his years - just as she would often do - and comforted his mother, who embraced her son as one would a healer.

From there, his exploits grew - and in the wake of her ageing, he took his mother's place and became a mighty teacher. It was him that the spirits of the ancients now clung to, whispering hidden knowledge to him and sharing with him their sight and techniques. The teachings from ancestors of his family combined with those of his mother made him a paragon of the soul. He became known throughout the village as a conduit of inner peace. He approached those suffering turmoil and bestowed upon them the judgement of the spirits, offering them paths to better themselves. Sometimes, he would test the convictions of offers , offering trials or temptations that would lead to the person's destruction or salvation.

In the end, he grew content with his village. Yet he felt he could do more with his life. There were untouched reaches of the world, whispered to him by wondering spirits. Places bound by horned saviors of magic, mighty creatures of the earth and brave flying denizens of air. And so, pulled along by the requests of these foreign spirits, Mwalimu bid his friends and family adieu and left for this new world, with his large bags of tricks at hoof, he set off to spread the spirit of goodwill and healing. To share in the wisdom of the ages. After all. Was that not the way of the teacher?

But...of course...these are all stories, after all. Who's to say they are true? I'm sure you can make many wonderful interpretations for yourself.

Haha haha!





---





---




The Roleplayer's Corner


#Nickname ; VENUS

#Age ; 21 and rising!

#Gender/Preferred Pronouns ; He/Man/Master of the Universe

#How did you find us? ; The shamans of old left upon my doorstep sacred instructions enscrolled in tortilla rolls.

#Sample RP ;



Shivering. That much he could still hear. Mwalimu could not, sadly , look upon the poor pony sitting with him upon his rug. The admittedly scratchy fabric seemed to make them squirm upon their flank, still trembling from the cold of a winter morning. He was not expecting to have to sit outside this long, perhaps...? What drove them? Of course, the strange zebra gave little in the way of an outward reaction. He just sat there, upright with his hind legs slightly splayed, his expression one of bliss and inner peace. It was almost as if he were a million miles away, thinking about far more pleasant things.

A voice seemed to break him out of his trance-like state.

"Mister Mwalimu, sir...?" A frustrated yet very lost voice called out to him. The pony's throat...he could feel a knot forming. "We've been out here for hours...you said you'd - uh - meditate...on my problem...?"

"A moment, my friend." The calm, focused, oddly smooth yet deep voice of the wise man spoke forth, Mwalimu's zebran accent was quite a stand out. It mingled with his words, giving an odd delivery. "I was in the midst of a game of hide and seek."

"With the...?" The pony pondered cluelessly.

"With the ancestral spirit of your grandmother. She tells me you were troubled in your time..." He tapped his chin, pondering as he opened his eyes. "The true cause of your fear of water is clear...it was the time you fell into a creek as a young foal. You kicked and screamed and blinded your little brother. It was very tragic... I think we are on to something!" He seemed oddly cheery about the whole situation. The pony seemed rather startled by the zebra's sudden insight into his past, yet also hopeful in his assumptions, ears all up.

"f- Really? Oh, this is great news! Maybe there's hope for us in that Annual Appleseed Regatapalooza yet!" He seemed utterly estatic! Good! This was usually the hard part.

"Good, good! Now...just a moment." Reaching aside to a large wooden basket, the old white paint and tribal markings still visible upon it, and opened it wide. From within, he retrieved from within a peculiar looking mask. It looked to be a little large for him, yet...also very oddly decorated. Blue markings upon its cheeks, like the beating waves of the sea. It's visage that of a rugged unicorn with a short horn, impressive beard and painted green eyes. The dark brown wooden mask had feathers in place of a mane, with the fixed carving of a small fish upon his left cheek.

"There is but one step more, my dear friend! The journey you and your brother will be part of requires a professional touch. As your Mwalimu, I shall grant you the means to this end! I do so love an apt student - especially one with a hopeful heart and a hearty hope! However, remember, brother, always keep your goals in sight and your compassions far closer."

"Well, I - uh - Limu...? Didn't think you knew much about sports, no offence!" The still very confused pony did admit, stroking his confused head with a confused hoof.

His reply was a chuckle, gleeful and oddly excited. With the biggest smile he'd given yet, the zebra would hold the mask aloft. "Not quite! But I think I will leave the rest of this session in the hands of a friend."

"Wait...? Friend, what do yo-"

"Roho za maji na samaki!" The zebra's voice boomed, taking a deep breath of the burning herb smoke around him. As he did, his eyes suddenly found a brilliant green glow, like flames leaping free of their edges, overflowing. The same happened to the eyes of the mask, which soon seemed to disappear into thin air, leaving twin holes. Holding it high, the air suddenly rippled with energy, as a quick flick of his hoof dumped a small bag of powder into the incense bowl, a sharp green release of smoke left odd, flowing entities within the air. The wisps looked oddly like ponies of various shapes, all circling around Mwalimu and whispering to him, one of which looked up at the mask and flowed into it.

"Kuzaa hekima yako, Kubwa Mganda , na kuhifadhia uongozi wako juu ya roho hii waliopotea." Slipping the mask on, the zebra suddenly grew quiet as it affixed itself to his features. Almost invisibly, the mask soon shrunk down to augment itself appropriately for him. Soon, his eyes did flicker open, and a different, more rustic voice did speak up through the zebra's lips, the strange wisps dissipating.

"Ahhh...so, you're the landlubber who's in need of a little 'imparted naval knowhow', eh?" Chin tilted up, it was clear now. The mask was moving! Talking. "Let's get crackin'."