Post by Trixie Lulamoon on Jun 14, 2016 20:48:40 GMT -6
||| THE GREAT AND POWERFUL TRIXIE |||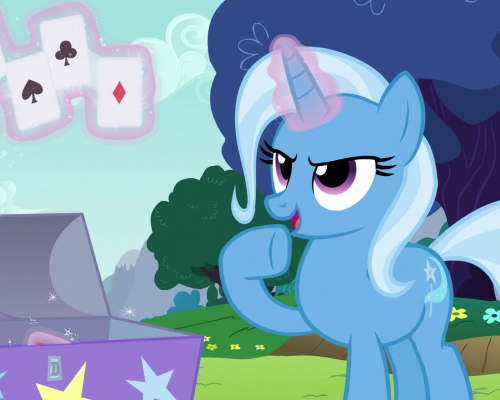 ---

#Name;Trixie Lulamoon
#Age Group ;Young Mare
#Sexual Orientation ;Asexual Panromantic
#Gender ;Female
#Species; Unicorn
#Cutie Mark ; Magic Wand Sprinkling Pixie Dust
#Occupation ; Traveling Stage Magician.
#Powers and Abilities ; The powers of the GREAT AND POWERFUL TRIXIE shall amaze you all with its showstopping wonderfulness! Trixie has magic beyond that of the average unicorn (but inferior to Twilight of course), able to do more than basic telekinesis. Her best spells are within illusions and show magic such as smokescreens and fireworks, but she is also able to cast various other spells such as summoning a cloud of lightning, changing color, and even use rainbows as a weapon! Overall she has a wide variety of show stopping tricks up her sleeves, even if she doesn't have the raw power or talent of some pony like Twilight Sparkle.


---





---


#Physique ; Trixie has a rather slim physique, but has some slightly developed muscle from the need to pull her wagon around.
#Mane and fur color and style ; Pale Cornflower blue mane and brilliant azure colored fur.
#Eye color ; Violet
#Other appearance details (optional) ;
#A more thorough description (optional) ;


Trixie is a unicorn pony that has a brilliant azure colored coat that is of course well groomed. Her build pegs her quite nicely as a magic-oriented pony, although there is subtle muscle to her build from having to lug her wagon all around Equestria. Her mane is a variety of shades of pale cornflower blue, giving her an almost grey-colored mane. When not wearing her purple hat with stars, her mane curls down around her neck with bangs curling in front of her. The most obvious accessory that Trixie has is her hat (already described) and her cape of the same scheme, with a blue jewel serving as a clasp. Inside the cape are pockets for various powders and items needed for her shows and magic.




---





---

#Personality ;



In Trixie's mind, she is the most amazing and spectacular unicorn in all of Equestria! More importantly, it is very important to her that every other pony in Equestria knows this fact. For most ponies interact with her, Trixie is an egotistical braggart. She loves to talk about how great and powerful she is, and has the tendency to talk in the third person. Her motive for this, of course, is to ensure that everyone remembers her name. Whenever she gets nervous or frightened she will continue to hold onto it as a source of comfort, but when it's clear that she is out of her league she is willing to drop the act. Her egotistical tendencies are further enhanced by her dramatic personality. Even in the simplest of conversations she has a tendency to be loud, punctuating everything with gestures and the occasional illusion. She also enjoys hearing herself talk, meaning she is perfectly fine interrupting a conversation to go into a rant or a dialogue or whatever.

For all her egotism, however, Trixie really isn't that bad of a pony. Yes, she loves to boast and exaggerate to get attention, but a lot of that stems from a simple need of wanting to stand out and be remembered. Trixie does want to believe she is as great and powerful as she claims to be, which tends to be resolved in two ways. When heckled, she'll fight back to prove her superiority. When faced with a difficult challenge, such as Ursa Minors, she will try and stand her ground even when it's obvious she is out of her league. She'll be nervous as Tartarus, but she isn't going to wreck her self-image for anything.

This, however, does lead her to be a rather stubborn and independent pony. After having been travelling alone for so long, Trixie believes she is capable of taking care of herself. This makes her very hesitant to take anything she even thinks may be charity or pity. But when pressed, she will grudgingly seek out or accept help when it's offered, even if she may not be that happy about it.

The more worrying part of her travelling, however, is that it means that Trixie has not been the most social of ponies. In the act of maintaining her independence, Trixie rarely writes or visits home. Her constant travelling also has meant that she doesn't really have the time to hang out or make friends. The constant practicing for her shows doesn't help that either. In the light of recent events, however, Trixie has made an effort to improve on this and try and make friends. It has been a frustrating process, however, with her pride and stubbornness often getting in the way of her being open with her "friends".

Even with all her issues, however, Trixie does have a few interesting spots in her relations with other ponies. First, Trixie has a bit of a soft spot for foals. Part of that is because they tend to absolutely adore her shows, but the other is she just has a soft spot for them. Because of this she tends to be a little less harsh around them, is glad to teach them tricks, and things like that. Second, there is her rivalry with Twilight Sparkle. After the Ursa Minor and Alicorn Amulet incidents, Trixie has had some trouble getting rid of the mare out of her mind. It is very rare that Trixie has ever met somepony that she has had to grudgingly admit is just as skilled, if not more so, than herself. As a result, Trixie does sometimes get a little over excited about being able to one up the now Princess, but she's been much better at keeping it in check after those incidents.





---





---

#History ;



Trixie was born in Canterlot, and like almost all unicorns born in Canterlot she had one major dream: to attend Celestia's School for Gifted Unicorns. Unfortunately, while she was okay at magic, she didn't quite seem to have the potential for the school, at least according to her early teachers. While was a good pony and seemed to get along well with others, she never really seemed to have the talent for the book work that would be required for a pony who wished to attend the school.

Whenever she was feeling particularly down about it, however, her grandfather would tell stories of his time working as an assistant to the famous magician and escape artist Hoofdini. The stories of his amazing acts of magic and escape would enthrall Trixie, and even more so her grandfather's stories of how the tricks worked. She even tried some of the simpler spells and tricks of the magician, soon becoming a playground favorite for her little 'shows'. The time eventually came when her grandfather told Trixie to simply forget what others were telling her about the lack of potential. If Hoofdini could become a great and famous magician with his wits and magics, then why couldn't she? Magic wasn't all about theorems and dusty tomes: it required the heart and will to be great and powerful as well.

Taking her grandfather's advice to follow in Hoofdini's hoofsteps, she began saving up all her bits so she could buy every magic set, see every magic show, and even occasionally read every magic book she could. Eventually, feeling confident in her abilities, Trixie decided to put on a show all on her own; illusions, fireworks, card tricks, and whatever other stuff she could throw in to the mix. With her special brand of stubbornness, she dragged everyone she could into her show, including her teachers. By the time she was done showing off her own special fireworks spell in her 'grand finale' (luckily her parents had bought the fire-retardant curtains), she had her cutie mark and the applause of the crowd.

Having shown not just amazing ability but a willingness to put in the work, her teachers finally put in a recommendation for her to apply to Celestia's School. For her entrance exam she, of course, put on a show-stopping performance that got her high marks in illusion but not so much everything else, for which she was still average. Still, it was enough to get her in, although the big story of that day was the exam of a "Twilight Sparkle", who had been picked to be the Princess's own student. Trixie, of course, was simply glad to get in and paid it no mind, though like most students of course she was nervous on that first day.

Trixie eventually graduated from the school, though her eventual performance grade wise was mostly average. While she showed great skill in her illusions and some skill in a few other things, she still struggled with some of the more academic side of things. Her magical skills and sleight of hoof, however, allowed her to do pretty okay at some of the more practical tasks, often allowing her to make some alternative way to solve the problem. Oh, and do quite well in the school talent shows of course. So when she declared she was going to become the next great Equestrian magician and start her own travelling show, no one was surprised. Between the bits she saved up and the gifts she got for graduation, Trixie was able to afford a wagon to live in as she travelled. It was hard work, and many times her funds would be low from a bad show, but Trixie was proud of what she did. Unfortunately for many, being alone on the road also allowed for Trixie's ego to grow immensely, which eventually came to a head in Ponyville.

Everything started fine; she did her show, challenged some ponies and won, and even had two dumbwitted ponies as her personal servants. And then said ponies decided to test her claim of banishing an Ursa Major by bringing one into town. Trixie, having obviously never done such a thing before, failed to do so, but was upstaged by a pony by the name of Twilight Sparkle. Trixie was simply stunned by the raw magical power in that unicorn, destroying completely Trixie's claim of being the most magical of all unicorns in Equestria. Sadly, Trixie had no time to deal with Twilight Sparkle as she figured it best to make a run out of town (who would probably be mad at her due to her boasting encouraging the two nitwits who brought the Ursa MINOR it seems into town)...without her wagon, which had been destroyed by the Ursa Minor in its rampage.

After fleeing Ponyville Trixie became a very bitter pony as town after town rejected her. They teased her, laughed at her, sprayed graffiti on her wagon. Her reputation was ruined, and it was all the fault of Twilight Sparkle and that stupid town! And because her reputation was ruined she was forced to take up a job on a rock farm. Why did ponies need to farm rocks anyway?! And this "Pie" family was so boring and dull: they literally ate rock soup! But at least with the income she could start saving up funds to get her revenge. As story after story of Twilight and her friends feats came her way, however, she realized she needed something special, something…big to get be able take her revenge. In her pursuit she eventually stumbled upon the Alicorn Amulet, an ancient artifact that promised great power and blah blah blah who cared about the rest?

Well, she should have cared as her attempt at revenge against Twilight with the Amulet soon lead to yet another disastrous encounter in Ponyville. With the Amulet amplifying her bitterness and desire for revenge, she soon went beyond simply beating Twilight to taking over and terrifying the denizens of Ponyville. It was only after Twilight used her own clever tricks and her friends to trick Trixie into taking off the Amulet that she was free.

The incident, in a sense, finally caused Trixie to realize just how terrible of a pony she had become. Her desire for recognition and respect had caused her to literally take over a town as a magical tyrant. Sure, some of it had been brainwashing, but there wouldn't have been anything to wash her brain with if she hadn't gotten so bitter. She needed to change, big time.

And so with a new wagon, an Apology Tour, and a desire to truly try and be a better pony, Trixie has begun her quest for redemption.






---





---




The Roleplayer's Corner


#Nickname; Whammy

#Age; 20

#Gender; Male

#How did you find us? ; I'm the admin

#Sample RP ;


"Come one, come all and watch as The GREAT and POWERFUL TRIXIE perform feats of magic beyond comprehension!"

About three fireworks went off behind Trixie as she posed in front of the small cart that she had managed to purchase with the money she had scrounged up. Glancing around at the street, she found that no one was really paying that much attention to her, with the ponies of Canterlot going on with their business as if she wasn't even there. Going back onto all four hooves, Trixie breathed a sigh of annoyance. Maybe it was not the best idea to have brought her act to Canterlot; with the large population of unicorns, a magic act was not necessarily anything that would interest them. Add in some of the…glances that people were giving her, there was also the chance these upper class snobs simply thought that they were better than her. Still, it was a city full of ponies with money, and she was in real need of money

"Well, if that's not going to get their attention, maybe something bigger will…"

Taking off the replacement hat that she had purchased, Trixie began to think. What could she do that would get a person to look at her? After the events in Ponyville, trying to claim she defeated an Ursa Major was out of the question, although she could try and claim she battled and Ursa Minor and still be true. But if they didn't want fireworks, they probably wouldn't care about some simple illusions. Now what could so…ah ha! There was something she could do that no other unicorn could do (Trixie refused to consider a certain other pony could, and no one counted the princesses in these statistics); manipulate the weather!

"Now then, prepare to be amazed as the GREAT and POWERFUL TRIXIE perform a feat beyond that of any normal unicorn; the manipulation of weather!"

A light purple aura soon enveloped her horn as the magic flowed. Within seconds, a small swirl of cloud began to appear in the air. It started off a white color, but as the cloud began to gain shape and form it darkened until it was black like a thundercloud...because that was exactly what it was!

"Behold as Trixie unleashes the power of lightning!" she shouted. A brief second later a thunderbolt shot out of the cloud. The sound of thunder and the sudden flash seemed to finally get the attention of the various crowds of ponies…and they did not seem rather happy.

"Hey, what's the big idea?"

"Oh my, what an unpleasant annoyance."

"Someone should do something about these street performers mucking about…"

Even when faced with the previously inconceivable idea of a unicorn accessing pegasi magic, the ponies of Canterlot failed to recognize her talent. Finally frustrated, Trixie threw a bit of a tantrum.

"FINE, if that is how you ungrateful fillies wish to treat Trixie, then Trixie is going to take Trixie's act somewhere more worthy of witnessing Trixie's stupendous and spectacular magic. Hmph."

Ignoring the complaints and looks of the crowd, Trixie harnessed herself to her cart and began pulling. She really had no idea where it was she was going to go, but for now she just wanted to get out of there...